| | | | | |
| --- | --- | --- | --- | --- |
| Model | Price per hour | Minimum order | Delivery&pick-up | Specification |
| BobCat T550 | $80/h (with operator) | 5 Hours | $80 + $1/ml | |
Please note: pricing includes both equipment and operator.
---
With over 10 machines to choose from, Vine Disposal has the best compact track loaders on the market to rent today. From BobCat, we've got the brands you trust at your disposal.
Compact track loaders are useful for:
Digging and backfilling trenches
Loading trucks, hoppers and spreaders
Grading and leveling driveways
Earth and snow removal
Material handling
Sweeping and clearing land
Removing stumps
BobCat® compact track loaders are built to go anywhere conventional machinery can't. With low ground pressures and a small footprint, they are suitable for use in soft underfoot conditions and other specialized applications. Like all Cat compact construction machines, they can also be counted on for reliable performance, low operating costs and a number of other important advantages.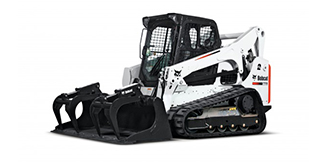 If you need to rent a compact track loader in Atlanta, contact Vine Disposal first.
About BobCat Compact Truck Loaders
BobCat equipment is known for its seamless incorporation of advanced technology as well as its focus on design and performance. Advanced features you will only find when you rent a compact truck loader from Vine Disposal include:
A sealed and pressurized cab designed for operator comfort. Featuring enhanced visibility, ergonomic, intuitive controls and an advanced display, BobCat compact truck loaders are engineered to reduce operator fatigue, improving productivity across a long shift. When renting a compact truck loader, these same features make them easy to train staff on, so your crew can get up and running faster.
A fuel-efficient powertrain that doesn't sacrifice performance. BobCat compact truck loaders are powered by advanced engines compliant with current US EPA emissions standards. The Electronic Torque Management system provides improved power even as fuel consumption is kept to a minimum, while precision-engineered hydraulic components allow you to complete complex tasks in fewer passes.
Whether you're renting for a day, a week or longer, these are benefits that will help you run a more profitable and productive operation. See detailed machine specs by following the links below, or contact a Vine Disposal office near you for more information.