| | | | | |
| --- | --- | --- | --- | --- |
| Model | Price per hour | Minimum order | Delivery & pick-up | Specification |
| TAKEUCHI TB260 | $90/h (with operator) | 5 Hours | $80 + $1/ml | |
| JOHN DEERE 135C 225C LC | $150/h (with operator) | 5 Hours | $1000 + $2/ml | |
| JOHN DEERE 250G LC | $150/h (with operator) | 5 Hours | $1000 + $2/ml | |
Please note: pricing includes both equipment and operator.
---
When you need earth and other materials moved quickly and efficiently, count on an excavator to do the job for you. The hydraulic system provides quick, strong pivot turns through the use of a simple joystick. Available sizes range from 33,400 to 55,736 pounds. Mini-excavators weighing in between 3,640 and 17,290 pounds are also available for small jobs.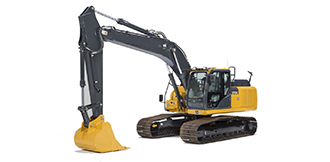 Vine Disposal offers a variety of high-quality hydraulic excavators from John Deere® and Takeuchi®. Known for their impressive strength, solid durability and wide range of features and options, John Deere® and Takeuchi® hydraulic excavators are used around the world in the harshest of locations. Equipping yourself with the right excavator for the job saves you time and money, and helps you get the job done sooner.
Vine Disposal provides experienced heavy equipment operators for all types of projects. Whether you need an emergency drain repair or residential demolition work, it's a quick job for an experienced heavy equipment operator.
For small or large scale projects, we've got you covered – there's no job too big or small for our efficient team. Though you may miss out on a little fun, sometimes an experienced equipment operator can save a lot of time and money.
Please note: pricing includes both equipment and operator.
Trust Vine Disposal for Your Excavator Rental Needs
Depending on your needs, owning and maintaining your own hydraulic excavator may not be in the budget. Maybe you're a small business and don't have the funds for your own heavy-duty construction equipment. Or maybe you don't need one on a regular basis and prefer not to tie your money up on an excavator that will spend most of its time parked. Vine Disposal works hard to give businesses like yours the flexibility to rent heavy-duty construction equipment to get the job done.
Types of Excavators for Rent in GA
We carry a broad range of hydraulic excavator rentals designed and sized for every job. You can rent:
Standard hydraulic excavators for general excavation uses
Mini hydraulic excavators for fitting through narrow passages
You can get information on all of these excavators right here on our website. Take some time to browse through our inventory of rental hydraulic excavators and compare the different features such as horsepower, width, weight, height reach, and travel reach. Once you have an idea which style of hydraulic excavator suits your needs, you can choose the exact model with the features and specifications for your job.
Your Source for Excavator Rentals in Georgia.
It's important to spend the time up front determining the best rental excavator for your needs. A bit of effort now guarantees you'll be equipped for the job at hand. You don't want to find out on your worksite that your excavator is too wide to fit or doesn't have the height or travel capacity to reach your excavation zone. An undersized excavator won't be able to move the loads or will take significantly longer than a larger model.
Of course, if you have any questions you can contact our knowledgeable team here at Vine Disposal. We have years of experience and training on John Deere an Takeuchi hydraulic excavators and can help you understand the different features. There are three convenient ways to contact us:
Fill in our online form, giving as much information as possible on your excavator needs. We'll get back to you as soon as possible with all the necessary information to help you choose your excavator.
Give us a call, and we can answer all of your questions directly. Our sales team is extremely professional and helpful, and will make sure to answer your questions and provide you with the necessary support.