Retail Store Cleanouts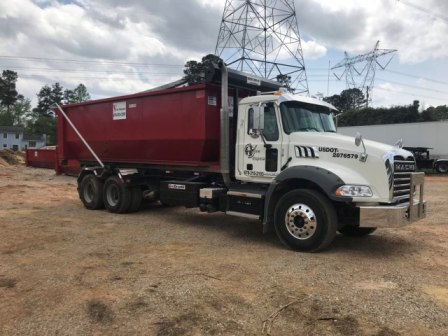 If you own a retail store, you know that there are times of the year when trash and cardboard seem to gather into small mountains in the storage area or backyard. Generally, this happens around busy shopping times like Black Friday, Christmas and others.
If you find that your store is temporarily generating far more waste, cardboard or recyclables than you can deal with – get in touch with us at Vine Disposal about our commercial dumpster services. We'll deliver a dumpster that your employees can fill with everything, we'll cover you until things settle back to normal.
Business or Restaurant Renovations
Similar to renovating a house, doing a business or restaurant renovation generally end up creating tons of waste material. Old shelving, lighting, drywall, floor tiles, carpets, and all sorts of other materials will quickly become a huge pile of junk. Instead of leaving it outside the back door and in the parking lot, it's better to place these materials into a container.
Before you begin your business renovation, contact "Vine Disposal". We'll tell you how we can assist you with a commercial roll-off dumpster that will handle all your renovation waste disposal so you won't have to deal with it.
Construction Site Dumpsters
We have experience working with contractors and construction sites throughout the state. Our heavy-duty steel construction roll off dumpsters are capable of handling tons of construction and demolition waste, from chunks of concrete to broken sheets of drywall.
When you're ready to start constructing or demolishing that next building, contact us and we'll show you how we can assist with your construction site's waste disposal plan. Don't let your project suffer delays because the site is covered in trash—let "Vine Disposal" get you the construction dumpster rental that you need to deal with the waste and keep everything on schedule.
Dumpsters for Atlanta Special Events
If your charity or club is hosting a special event such as a 10K race, marathon or music festival, we can assist with creating your waste disposal plan and supplying commercial roll-off dumpsters to gather up all of the trash and recyclables. Avoid having your volunteers and event venue be overcome with trash flying all over the place – rent a dumpster or two to contain everything, and you're all set.
Vine Disposal makes Renting a Dumpster Easy!
Acquiring a construction dumpster rental for your business shouldn't be difficult, and we work to ensure that the process is as easy as possible. Get in touch with us toll-free at 678-315-2193 or visit the Contact Page page to leave a message, and one of our friendly team members will call you back to discuss the details of your dumpster rental and provide you with a free quote.
We also supply many businesses with recurring construction dumpster services at rates that are very competitive with the big national waste disposal companies. If your business is constantly generating waste that you need to get be rid of – call us today!