What you need to know about renting a dumpster
Uses of the dumpster: roofing project, remodeling, foreclosures on homes, spring clean out attic/garage, construction debris, landscaping projects.
What sizes are available? 10yd, 15yd, 20yd, 30yd, 40yd. Renting a dumpster that is larger then the waste is a better bet, as having to rent a second container could be costly.
Types of Waste: If you are uncertain about the waste that could go in the dumpster give us a call. Some waste debris is not permitted and could add a contamination charge.
Weights of Waste: Be sure to pay attention to the amount of weight being put in the container. Each container has an allowed weight.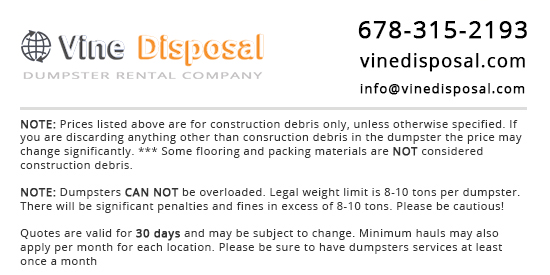 What is included in the rental price?
There are no hidden fees! The price quoted is the price you will pay. Your rental includes:
If you have changes to the order that extends your rental, or the content of the dumpster exceeds the minimum amount, we will notify you of the additional charges.
Items Not Allowed In Dumpsters