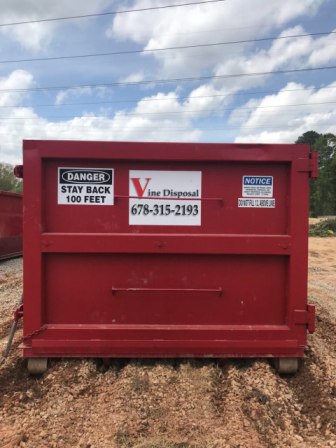 Our smallest roll off dumpster sizes available for rental measure approximately 10 cubic yards. These dumpsters are best suited for large parties, or special events, that feature plenty of food, disposable plates, and possible presents, covered in gift wrap, of course. These roll off dumpster sizes are about 12- 16 feet in length, about 8 feet wide and about 3-4 feet tall. This dumpster size allows for plenty of room to fit a large amount of garbage bags. These dumpsters are also suitable for small home constructions, though if that is your intention than you may wish to call Roll Off Dumpster Rental and talk to one of our representatives to make sure you won't need a larger sized dumpster. A 12 yard dumpster has more capacity still. It is also popular for small residential uses and slightly larger projects. The 12 yard dumpster features nearly identical dimensions as the 10 yard dumpster, but has up to an addition 3 feet in length to fit in those extra garbage bags, or spare pieces of debris.
What Roll Off Dumpster Size?
Renting the appropriate roll off dumpster size is extremely important. You could be in for quite a disappointment if you accidentally select a dumpster a few sizes too small. This doesn't happen to many Roll Off Dumpster Rental customers, but we've heard many of these stories from customers that formerly used our competitor's services before discovering us. Often times they had no idea what roll off dumpster sizes were available before just ordering whatever size a pushy sales rep offered them. We won't even try to up sell you to a larger sized dumpster just to make a bigger profit; we believe that customer loyalty is much more important to us than just a few extra dollars. Instead, when you call Roll Off Dumpster Rental, our trained phone representatives will do their best to educate you into making the best choice for you, not just us. Small touches, like well trained employees, are what separate us from our competitors.
Need a large dumpster for construction purposes? Not to worry, we have you covered. Roll Off Dumpster Rental offers large dumpsters specifically geared towards heavy construction materials, and traditional garbage alike, with construction dumpsters that can handle as many as ten tons. Our 20, 30, and 40 yard construction dumpsters offer a ton of room to fit all the construction debris within site thanks to their huge frame that measures in at 22 feet in length, 8 feet wide, and 5-8 feet in height. There aren't many things you can't fit into this dumpster.
Roll Off Dumpster Rental is proud to offer a superior rental service in comparison to our competitors. If you want to save time, and money, there is only one choice. Call us to get started with the perfect roll off dumpster sizes today.