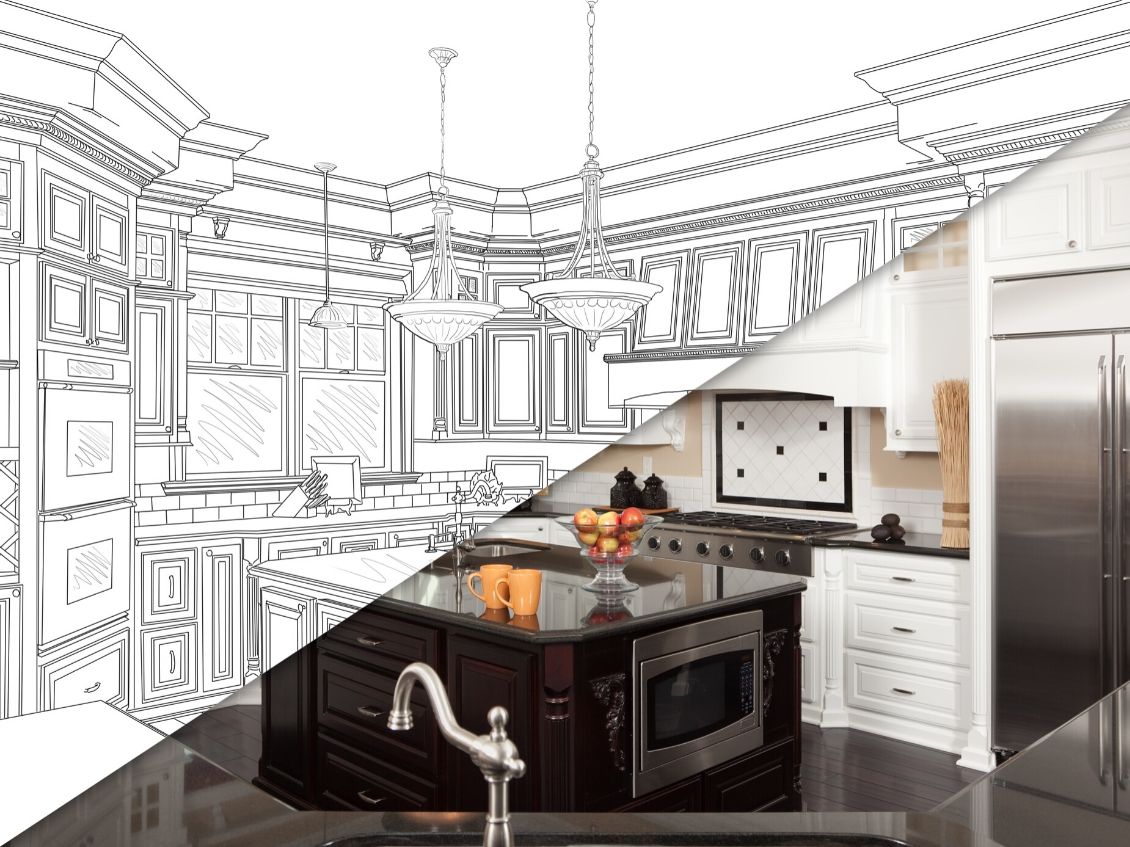 For many families, the kitchen is the heart of the home—and with good reason. Whether you're someone who prepares microwaved meals or five-star cuisine, the kitchen is the best place for your family members and friends to gather around good food and good conversation. As such, it's important that your kitchen accurately reflects all the warmth and love it produces on a regular basis.
Unfortunately, kitchens can also quickly become one of the messiest places in a home, and over time, they can begin to look a little worse for wear. After the years of producing delicious dishes and hosting happy meals, sometimes the best thing you can do is give your kitchen a makeover. This guide explores exactly what to know before you renovate your kitchen.
Flow and functionality are important
If you've ever heard the phrase "too many cooks in the kitchen," you know how important flow and functionality are to kitchen design. Your kitchen should be organized in a way that allows for comfortable mobility throughout the entire space. You should have enough space to easily remove items from the oven without fear of burning yourself or others—but it doesn't have to be so spacious that you're left with empty cabinets. When plotting the floor plan for your kitchen, be sure to consider the way you'll use the space and the frequency with which you'll use different appliances. Place the appliances and items you use more frequently front and center for easy access. Place items that you use less often in a cabinet a bit further out of the normal walkway and workspace.
When considering the functionality of the space, you may also want to consider the amount of people who will use the kitchen at once. If your family likes to cook and entertain, consider opening up the space a bit and including an area where you can converse with guests while cooking, such as a breakfast bar or a kitchen island.
Ventilation is crucial
It's long been said that if you can't stand the heat, you should get out of the kitchen. The kitchen is often the warmest room in a house, and it can become even toastier in the unfortunate event of an overcooked meal. Smoke and steam can fill up the space quickly, so it's important to prioritize ventilation when you're renovating your kitchen. The simplest way to ventilate your kitchen is by including a window in the floor plan, ideally near the oven and stove. Range hoods are also popular ventilation options that can give your kitchen a very sleek and modern look. You may need to seek the help of a professional to install a range hood, as it may require a bit of tricky ductwork.
Leave plumbing to the professionals
Similarly, it may be in your best interests to consult a professional when you're altering the plumbing in your kitchen. You may be able to complete some minor plumbing renovations on your own, such as installing a garbage disposal or connecting a water line to your refrigerator. However, moving the location of your sink, dishwasher, or refrigerator involves altering your kitchen's pipes and plumbing—this is no small task, and it may require you to remove portions of your wall or floor first. As such, it's always best to leave these tasks to the professionals. They'll be able to offer the best advice regarding where to put your sink and ensure all the fixtures are installed correctly. This will reduce the likelihood of leaks and help you save on future renovation costs in the future.
Consider electrical work carefully
Electrical work is equally as important as plumbing and ventilation in a kitchen. Like plumbing, electrical work is often best left to the professionals. Even minor electrical problems can cause serious damage to your home if you don't tend to them correctly. Electrical fixtures and appliances that are installed incorrectly can also put your family at risk for personal injury. If you plan to change the wiring in your kitchen or want to add or move electrical outlets, it's best to consult a licensed electrician first. If you elect to complete smaller electrical fixes yourself, such as installing a new oven or switching lighting fixtures, be sure to turn off the power first. When you're installing a new oven, you must also be sure to turn off the gas for the kitchen.
Work in shifts
Rome wasn't built in a day, and your new kitchen won't be, either. When you enter into any home renovation project, you may feel an overwhelming sense that you need to complete everything as fast as possible. This often causes people to start multiple projects at the same time with the mindset that they'll be able to work on everything simultaneously. This idea is nice in theory, but it rarely works out as planned. Instead, it's best to tackle your kitchen remodel in shifts. Start with the largest task in the project, and work down from there. Once the most grueling task is out of the way, everything else will seem like a piece of cake.
Bear in mind that your family will still need to eat during the course of renovations, so your kitchen will need to remain at least somewhat functional. Working in shifts will ensure that you'll still be able to use at least one area of your kitchen. Try to keep your major appliances plugged in as long as possible, too.
Things might get messy
As with any renovation, one of the most important things to know before you renovate your kitchen is that things will likely get a bit messy. You may not be able to avoid some of the mess, but you can take a few precautions to make sure your house doesn't fall into total disarray. The best precaution you can take is to rent a small dumpster for the duration of your renovation. Tidy up your workspace at the end of each day and place excess materials and debris into the dumpster. This will keep the kitchen clutter from straying into other areas of your home and allow you to begin each work day with a clear head. For affordable dumpster rental in Atlanta and the surrounding areas, contact our team at Vine Disposal.