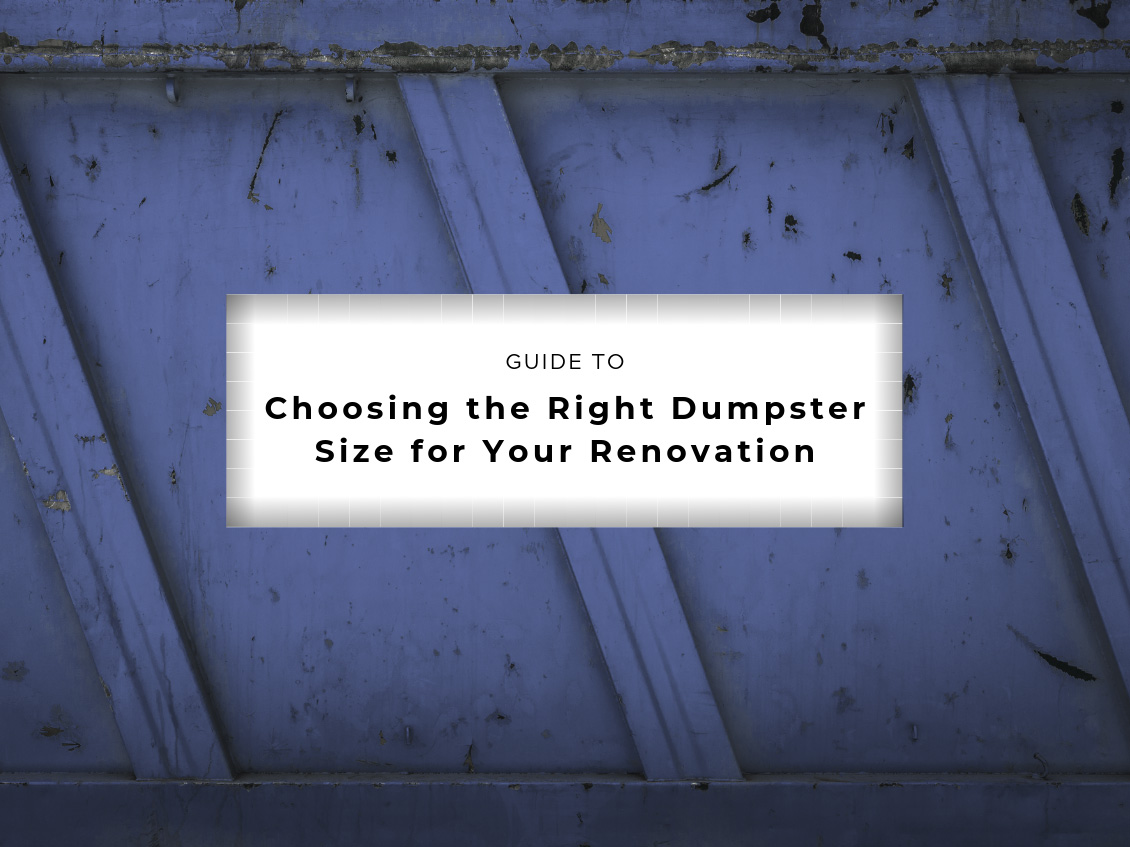 Whether you're a first-time DIYer or a seasoned construction professional, it's always best to plan out each detail of your renovation in advance. This includes determining the size of your rental dumpster. Below are a few key considerations for choosing the right dumpster size for your next renovation project.
Size and material amount
When choosing the right dumpster size, it's imperative to consider the scope of your renovation project and the size of the materials you'll be disposing of. Rental dumpsters come in various sizes to best suit a wide range of different construction projects. Basing your dumpster size on the scope of work will save you a lot of hassle and money in the long run. Many people may feel inclined to choose a smaller dumpster due to the lower cost. However, overstuffing a small dumpster may actually be more expensive than renting a slightly larger dumpster. Overfilling a 10-yard dumpster, for instance, will likely necessitate a dumpster swap. This is when the supplier exchanges a full dumpster for an empty dumpster of the same size, typically accompanied by a fee. The process of swapping a 10-yard dumpster will likely be more than the total 15-yard dumpster rental cost. As such, it's always best to consider the size and disposal materials before choosing your dumpster size.
Material weight
In addition to considering the size and amount of materials, you will also need to bear in mind the debris' overall weight. The maximum weight limit for each dumpster will vary depending on their size. As such, be sure to assess the weight of your building materials and debris before choosing a dumpster size. 15-yard dumpsters, for instance, can carry a maximum 4,000 pounds. These dumpsters may be better suited to lighter materials, such as shingles, or smaller renovation projects. Larger dumpsters, on the other hand, can carry several tons worth of debris. This makes them ideal for larger construction projects or the disposal of heavy materials. This would include wood, flooring, plaster, and drywall. When considering the best dumpster size for your project, the weight of materials is equally as important as the amount and size. If you exceed the maximum weight limit of your rental dumpster, chances are you'll incur additional fees.
Dumpster location
It is also important to consider your rental dumpster's location and how it will affect the renovation project as a whole. For instance, homes and construction sites in busier areas or with restricted outdoor space will likely need to rent a smaller dumpster to better accommodate the limited area. Additionally, most dumpsters feature a hinged back door to allow for easier disposal. While this is very convenient, it is something you will need to consider when choosing the location for your dumpster. If you're planning to place your dumpster on a small driveway or in a tight alley, you may not be able to open the hinged door to its full capacity. Therefore, you may need to choose a smaller dumpster size.