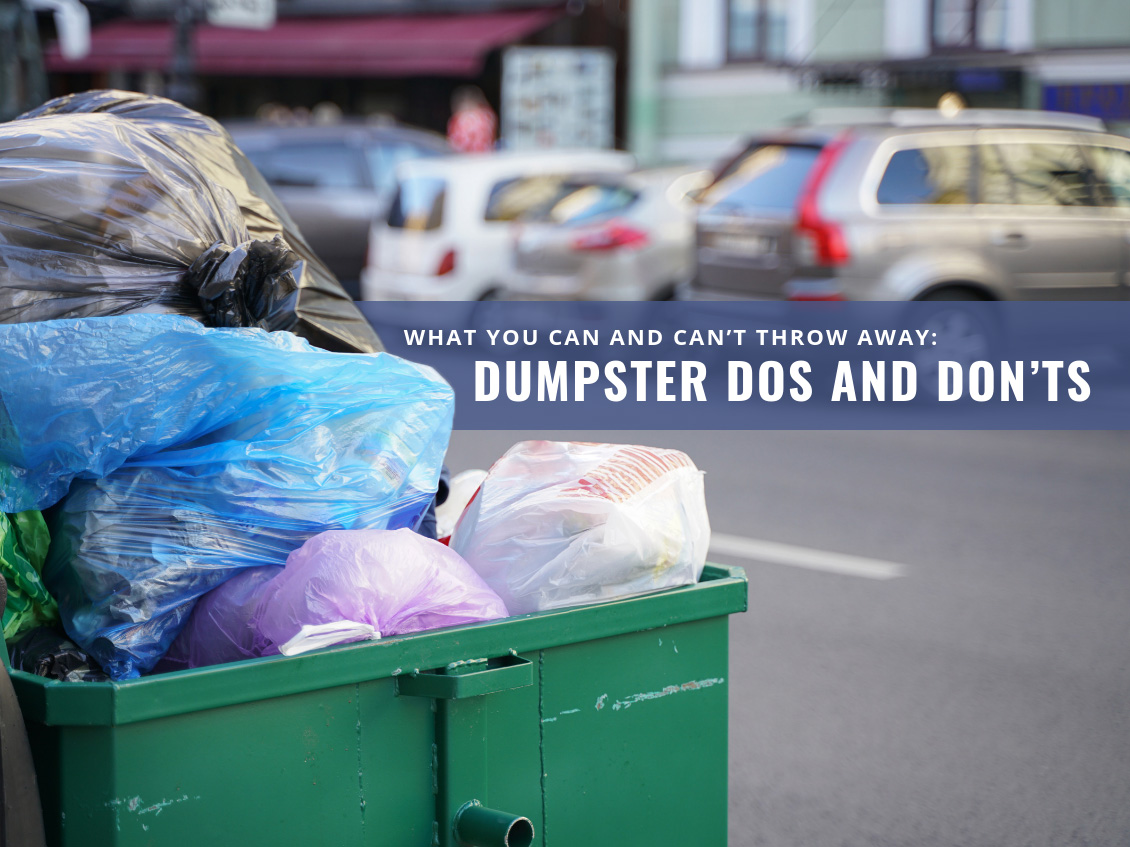 Renting a dumpster is one of the most crucial considerations when planning for any residential or commercial renovation project. While dumpsters may seem like a great catch-all for your renovation debris, this isn't entirely the case. There are a few regulations regarding what you can and can't throw away in a dumpster. Before diving headfirst into your next renovation project, check out this helpful list for all the dos and don'ts of dumpster disposal.
Acceptable items for dumpster disposal
Building materials
When it comes to home renovations, you'll likely be using large amounts of building materials. Luckily, many dumpster companies permit the disposal of (most) building materials, including brick, asphalt, and concrete. However, you should be cognizant of the weight of these materials, as all rental dumpsters have a maximum weight limit. For instance, a 30 cubic card dumpster can support a higher weight than a smaller dumpster. The weight and size of your building materials can severely influence the size of your rental dumpster. Knowing the weight limit's vital to learning what can be thrown away in a dumpster. For more information and tips for choosing the right dumpster size, check out our helpful guide.
Home improvement debris
As you bring in new building materials, you'll likely also be disposing of other renovation debris. These materials may include drywall, plaster, subfloor materials, or old tiles. Companies generally accept all these items for disposal in a rental dumpster. Heavier debris, such as countertops or lumber, are also acceptable.
Aerosol cans
This is perhaps the most common misconception regarding what you can and can't throw away in a dumpster. While it is true that full or partially full aerosol cans are not disposable in a dumpster, empty aerosol cans are admissible. Aerosol cans, such as bug repellant, spray paint, and spray lubricants, do have the potential to combust when full or partially full. However, when empty, these cans pose no danger and are safe for dumpster disposal.
Household junk
If you have a lot of junk taking up space in your house, the best way to dispose of it is in a dumpster. Rental companies will accept smaller items, such as knick-knacks, clothing, and toys, along with larger items, including pots and pans, and even furniture. You can also dispose of garbage and kitchen waste in your rental dumpster.
Smaller appliances
While the disposal of smaller appliances may not be acceptable in every city, in most locations it is perfectly fine to do so. These smaller appliances may include (but are not limited to) microwaves, stoves, dishwashers, and washing machines. Before disposing of these items in a dumpster, however, be sure to check with your local government.
Electronics
As with other appliances, electronic disposal will depend on the regulations for each city. Areas that require e-waste recycling may not accept disposing of electronics in a dumpster. Further, they may require an additional fee to cover the costs of recycling these items. However, most locations do allow the disposal of electronics in a dumpster, including TVs, computers, and printers.
Items not permitted in dumpsters
Paints and adhesives
While some liquids are acceptable for disposal via dumpster, paints and adhesives are not. Paints, including paint thinners, lacquers, and wood stains, can contain small amounts of lead or mercury which can be hazardous. This is particularly true of paints produced before the 1990s. You should also not dispose of adhesives via dumpster, as they can bind other materials to the inside of the dumpster. This makes the disposal process much more difficult for waste management workers and can potentially damage the rental dumpster.
Refrigerators
Refrigerators provide another example of what is not allowed in a dumpster. Unlike some smaller appliances, do not throw refrigerators away in a dumpster. Not only are these items exceptionally large, but they contain a toxic material that can be hazardous to humans and the environment. The refrigerant used in most refrigeration units is quite toxic and has the potential to leak out during disposal. Rather than getting rid of your refrigerator in a dumpster, contact an appliance retailer or a trained professional to aid in the disposal process.
Tires
As general waste management dumpster rules go, it's vital to keep a list of items that aren't acceptable, and this includes tires. Tires may seem harmless, but they're quite dangerous to landfills. Tires can cause damage to the landfill structure and the equipment used by waste management workers. Additionally, the methane gas produced by the landfill can build up within the inner walls of the tire, causing it to seemingly "float" to the top of the landfill. This will disrupt the rest of the structure in the process. For these reasons, you should never dispose of tires in a dumpster. Luckily, many auto repair shops and auto part stores will accept old tires and may even recycle them into asphalt or playground mulch.
Potentially hazardous materials
Among the list of what can you not throw in a dumpster, hazardous materials make the list more often. The spectrum of hazardous material is wide and can include many different materials. In general, however, these materials can be defined as "any item… which has the potential to cause harm to humans, animals, or the environment, either by itself or through interaction with other factors." This can include contaminated soils, absorbents, and medical waste. Medical waste, including used syringes and bandages, should never go in a dumpster—these materials by can be extremely dangerous and potentially cause infection if waste management workers were to come in contact with them.
Car batteries
While you can safely dispose of smaller batteries within a dumpster, this is not the case with car or lithium batteries. These large batteries can leak hazardous chemicals into a landfill and cause significant harm to the environment. Similar to tires, you can recycle most car batteries at auto shops or auto part stores. Similarly, try bringing lithium batteries to any nearby electronic stores.
Water and fuel tanks
In general, dumpster rental companies will not accept most tanks, including hot water and propane, fuel, or oil, tanks. The harmful gases emitted by landfills have the potential to collect within the empty hot water tanks. At the same time, small amounts of flammable materials, which may remain inside propane, fuel, and oil tanks, can pose a dangerous threat. If not properly disposed of, they could combust.
Of course, this is not a comprehensive list of all permittable items for dumpster disposal. For further information regarding what items and materials are acceptable for dumpster disposal, contact your city's local government officials and waste management department for their waste management dumpster rules. They can provide you with further information regarding the disposal of hazardous materials or particularly large items, such as refrigerators or tires.