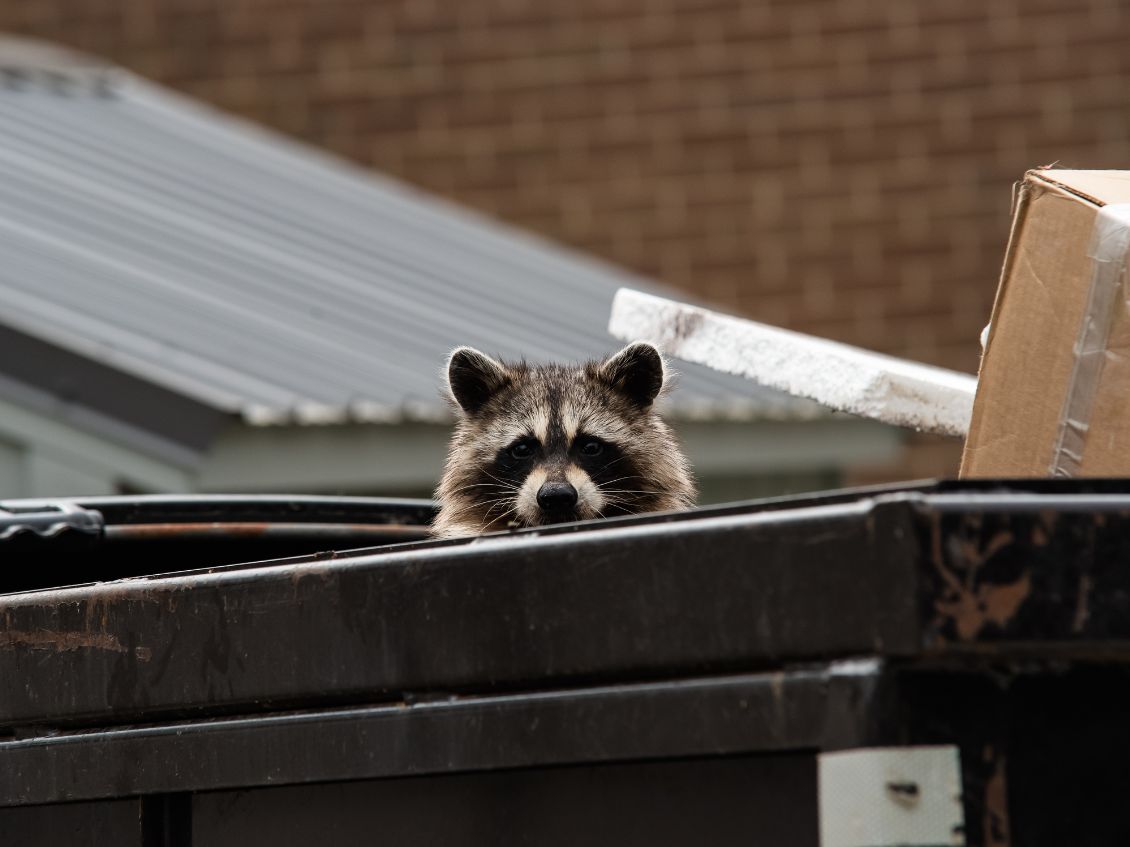 Dumpsters are good for holding trash, obviously. However, the downside to this is the animals they attract. Animals will make their way toward any dumpster. This is not completely avoidable, but it does not mean they get to hold up shop inside. There are plenty of ways to handle this situation once it arises. Let us tell you what to do if an animal gets into your dumpster.
Leave It Open
This may seem counterproductive, and you might think keeping it open in the first place is what caused the problem. You would be right in that assessment, but trapping the animal by putting a lid on your dumpster won't encourage them to leave.
Keep the top open so they leave on their own once they've finished rummaging. Most animals that dumpster dive can get easily spooked and move on quickly, or they might discover there's not much for them to consume and go searching for a more favorable dumpster.
Spray Ammonia
If the first tip does not work, you'll need to take it up a notch. Spraying ammonia helps to keep animals away from a dumpster. Depending on how much you spray, it might not be potent enough for them to smell from miles away. However, if they do find themselves inside the dumpster, the smell of ammonia on the interior will be enough to encourage them to move on.
Use this option as more of a preventative tactic. Never directly spray the animal with ammonia. You will only succeed in aggravating them and potentially putting yourself in harm's way. They will go on the defense immediately.
Provide a Ladder
Sometimes, animals like raccoons and possums get stuck inside a dumpster because the metal sides are too smooth for them to climb. At Vine Disposals, our 40-yard dumpster rentals have this exact quality that might get an animal stuck in your rental.
Some animals might need a little coaxing. Proceed with extreme caution, and do not reach inside with your bare hands because you never know what disease they may carry. Wear thick, heavy-duty gloves and try to find an item in the trash that could help them climb out. After you set it up, walk away and let the animal do the rest.
Call a Professional
If none of these options sound appealing to you, then you can simply wash your hands of the whole thing and call the professionals. Animal control agents train for situations just like this. They will come out and remove the animal for you without causing much of a disturbance. If the animal in your dumpster has gotten comfortable and refuses to leave, it's best to leave it to the professionals.
We have a few more suggestions and tips for you to follow if an animal gets inside your dumpster or any other issues you may encounter with a dumpster rental. For more information, visit our website.