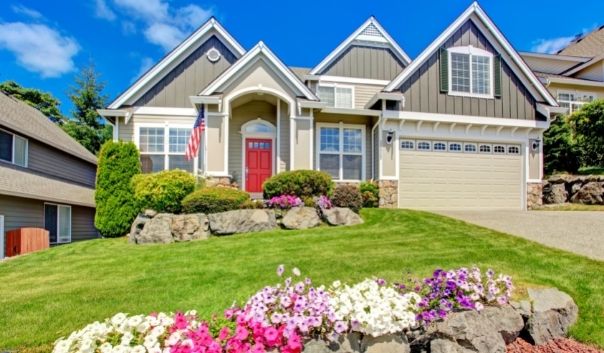 Summertime is the perfect time to consider working on your home. Whether the winter took its toll on your house or you just decide to take on a new project, the summer is when you can really get a lot done. Updating your home doesn't have to be difficult, and some of the options on this list you can knock out on your own over a weekend. Other updates might take you quite a bit longer and possibly even require outside help. The one thing that connects them all, though, is that they are perfect updates to make to your home this summer.
Clean Up the Exterior
Your home's exterior reflects the people that live inside of it, so it pays to take care of it when you can. Summer is the best time to take a power washer to the outside of your home and get it back to looking its best. You may also want to consider removing and replacing your home's siding. Many homes have vinyl siding that can degrade over time. You can get a lot out of the summer by improving your home's siding, whether you hire someone to do it or you opt to do it yourself.
Improve Windows
The great thing about improving and upgrading your windows during the summer is that it can save you a lot on cooling your house. Many single-paned windows aren't very good at keeping the heat outside where it belongs. New, thicker windows also help in keeping outside noise from entering your home. While you can do this job yourself, you may need the right permit to make any holes in your walls.
Upgrade Your Landscape
What better time is there to improve your landscaping than when the weather is perfect for being outside? Beautifying your lawn and yard doesn't have to be a super involved job—even just a few touch-ups or new plants can go a long way. Landscaping is a major part of the curb appeal of your home, so it will pay off in the end for you to improve the landscaping, as well as take care of it. Depending on the size of your yard and the number of changes you want to make, you could easily get through a landscaping project over one weekend.
Beef Up Security
Another good update to make to your home this summer is adding in some more security measures where you might lack them. One of the biggest benefits to installing a proper security system is a reduction in the amount you'll pay for home insurance. While this isn't a project that you must do during the summer, it is good to keep in mind while you improve other areas of the house. Security systems are worth the money for the peace of mind they bring.
Erect a Fence
If you're not afraid to put in some hard labor, erecting a nice fence could be just the project you want to take on. You can go all-out and build the entire fence yourself from scratch, or you can utilize ready-made fencing options from your local hardware store to make the job much faster and simpler. Be extremely sure you understand where your property lines are before you take this on; you don't want to accidentally cross into your neighbor's property while building.
Restain the Deck
The deck is a great place for summertime hangouts and barbecues. However, decks can take a real serious beating over the colder months and they could need a new stain to keep them fresh. Stripping and staining the wood of your deck isn't a particularly complicated job, but you should be aware of stripping it too aggressively—this can damage the wood if you're not careful. Also, you want to ensure that the stain you choose is one that will go well with the wood of your deck.
Build a Firepit
A deck may be good for hanging out outside, but when night falls, you'll want something a little extra to keep people comfortable. Firepits aren't as difficult to build as you might believe. Concrete tree rings are a common material a lot of homeowners use to craft their own firepits, and they don't cast very much at all. This is another project that seems like it would take a long time, but you could actually finish in a weekend's time.
Seal Your Driveway
The heat of the summer can cause your driveway to expand and create cracks and crevices. Before the moisture can get in and make those cracks even worse, it's a good idea to reseal your driveway. While it is possible to seal a driveway on your own, it's a messy procedure that can be dangerous if you don't know what to do. Hiring a professional for this particular job will be worth the money and time it saves you.
Install New Gutters
Gutters are crucial elements of your home's exterior that keep water from entering your house, no matter what season it is. The summer is the right time to replace them if they got damaged in the winter or spring. The last thing you want is for an autumn storm to come in and flood your home because your gutters don't work properly. Make sure you watch the weather before you start this project, as you don't want a storm to hit midway through.
Replace the Roof
If there was ever a time it would be okay to not have a roof over your head, it would probably be in the summer. That's why we would recommend replacing your roofing in the summertime. This is another job that is better left to professionals, as doing any work at that height is dangerous unless you're well-versed in the trade already. Even if you don't want to replace the whole thing, keep an eye out for any broken or cracked shingles and replace them as soon as possible.
We know that updating your home, no matter what season it is, can be a lot of work and make a big mess. If you know you're about to make a lot of waste from landscaping, roofing, or siding, consider one of Vine Disposal's 15-yard dumpster rentals. We'll be there to make sure that your summer updates go off without a hitch.