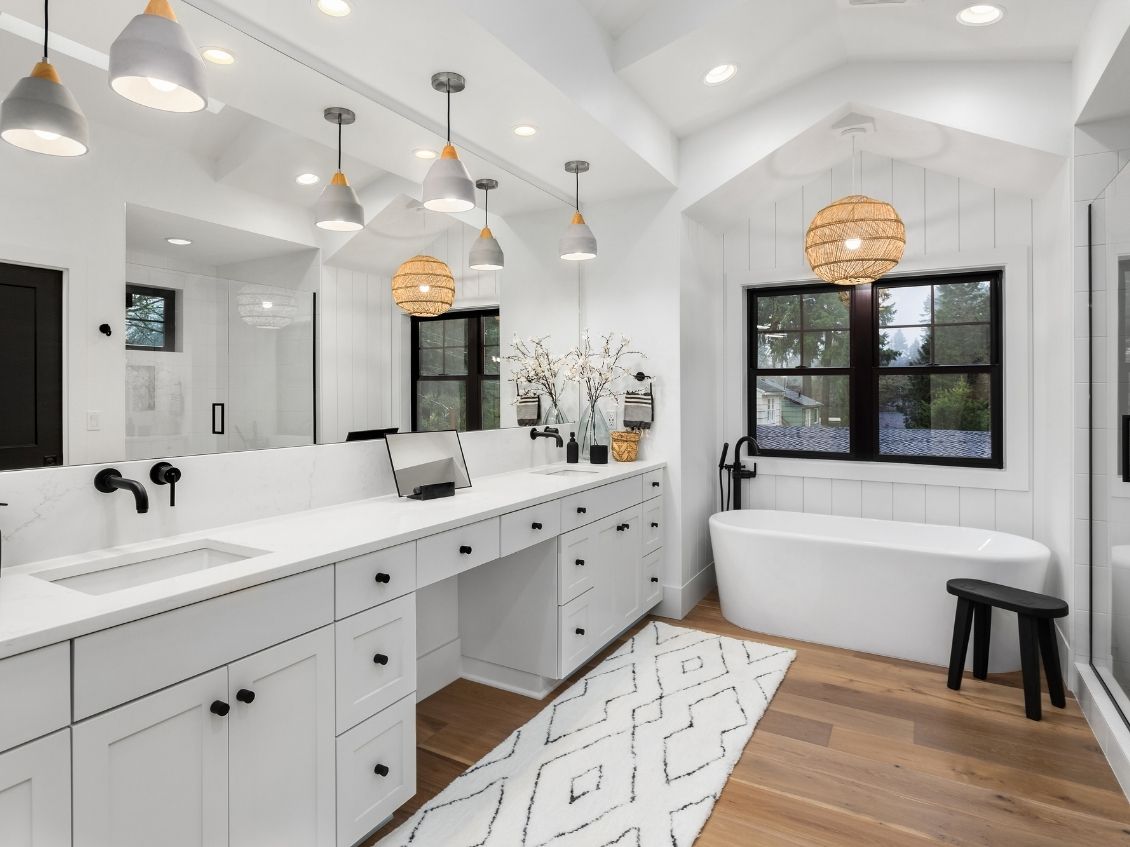 Depending on the state of your bathroom, you're tossing and turning over the future layout of your bathroom and whether it'll save you some money or break your budget. Whatever the challenge might be, Vine Disposal is here to help rescue you from a faulty layout plan. Look at our list of top tips for a successful bathroom renovation.
Figure Out a Budget
Don't dive headfirst yet. A budget is something you need that is comfortable for you to work with. A person spends close to $11,000 for the average bathroom remodel, depending on the size and what portion needs tackling. First, before we encourage you to demolish as much as possible, understand that a budget makes sense when planning out a remodel of your throne room—and we mean bathroom. Contact Vine Disposal for an idea of how much you are looking to spend, and we'll help figure out the right size dumpster for your renovation needs.
Stick To One Layout
It's challenging to stick with one choice, but it's critical if you're working on a tight timeline. Sometimes, people that are looking to renovate give up once they've hit their budget because they changed the layout about ten or more times. The best advice we have is to stick with one design, and this is primarily due to sanitaryware that helps separate hot and cold water. If there are changes, make sure they're as dismal as possible.
Inquire Help Early
By help, this includes an electrician, a professional remodeler—and we don't mean your cousin who learned from a How-To forum—and a good dumpster management service. That's where we come in. We offer the necessary equipment to help dispose of your debris correctly. Inquire within, and we'll be happy to give you the rates on our 10 cubic yard dumpster to properly throw away your waste. The best time to request help is for about six weeks on average, and most would comment six months is more ideal, as it opens doors for more budget-friendly options.
Choose Sanitaryware First
Before you start to rehab your bathroom or rip down plaster or tiles, plan your sanitaryware out first. Doing this first will help ensure that nothing is broken or needs replacing. Sort through the piping hot-spot list to help coordinate plans:
Check your bathtub and shower.
Have the sink and taps inspected.
Look over any bathroom furniture that's hiding sanitaryware.
Save Any Used Sanitaryware
While looking over your sanitaryware, inspect the pipes thoroughly and try to save as much as possible to reuse. This would include taps that are still in good condition, as well as any salvageable roll-top baths that you can use again. Also, try re-enameling your bath to help maintain its character.
Avoid Using Wall-Mounted Sanitaryware
We've got a secret for you: wall-mounted sanitaryware is a waste of money, so don't fall victim to this illusion that wall-mounts will save you space. In fact, they require more specialized maintenance, which will need you to spend more than what you are willing. It's simpler and smarter to use reasonably priced deck-mounted taps, pedestal basins, and a close-coupled toilet.
Budget-Friendly Tip: Mix and Match To Save
We've always been told not to mesh any styles together, but we can't help ourselves for the bathroom. If you want to save, consider combining styles or even colors to help save more on your bathroom remodel. With sanitaryware, mix it up a little, and blend if you're using white to help with offsetting the color skein of your bathroom.
Keep Designs Simple (If Possible)
Always stick to a simple layout when feasible. Otherwise, you're drowning in debt with a renovation that's over the top. There's a chance one part won't function well. To save money, stick with simple upgrades and decorations.
Include Technology
The type of technology you want to include, and with so many options, are waterproof TVs inserted into a wall. Or maybe you enjoy lighting fixtures so much you want to create your own. This is possible with preset lights with a remote to help change the color and set the mood. Also, if you're looking for one or two tech additions to add on, consider an automatic bath filler or automatic blinds for added—and intuitive—privacy.
Incorporate Proper Ventilation
Before you conclude any type of rehab, especially if it's the bathroom or kitchen, you're going to want proper ventilation to help kill any unwanted fumes that can harm your health. Naturally, a bathroom has steam, and that steam creates moisture and damp walls, floors, windows, and appliances. This can also cause fog to form on windows, which prompts you to wipe that away. Install an extractor fan to help air the room out.
If your bathroom has wooden window frames, it's ideal for getting a window vac that's able to pull in condensation to help ventilate your bathroom. This is an excellent addition if you're looking for a better way to preserve your wooden window frames.
Make Sure Materials Are Suitable for the Bathroom
Like ventilation, you want to use the best material possible for renovating your bathroom. This means that certain paints and flooring that you envision in your bathroom may not be ideal. For example, carpeting is an obvious no, but we understand you're aiming for a rustic or a modern bathroom for hardwood and laminate flooring. However, these two floorings don't fare well in steam and buildup of moisture.
For wooden flooring, you're at risk of your flooring warping or buckling from accumulated moisture in the floors. This can even cause serious injury if you're not careful. Yes, it looks picturesque, but the flooring is unrealistic. As for laminate flooring, it is consistently confused with vinyl. Even though it gives a wood-like appearance, it's still a terrible design choice to make. The selection of laminate flooring is not idealistic because it can absorb moisture, and since it won't absorb moisture well, it can become slippery and pose a high risk for injury. If you do use laminate, consider adding a rug when renovating.
Your bathroom renovation all starts with a process, and, you'll need an excellent dumpster to help you along the way. One of the best top tips for a successful bathroom renovation is to contact Vine Disposal for easy estimates and choices of dumpsters for your next renovation project. Don't run out of your budget by following terrible advice; trust your gut by handling your waste management needs with Vine Disposal.