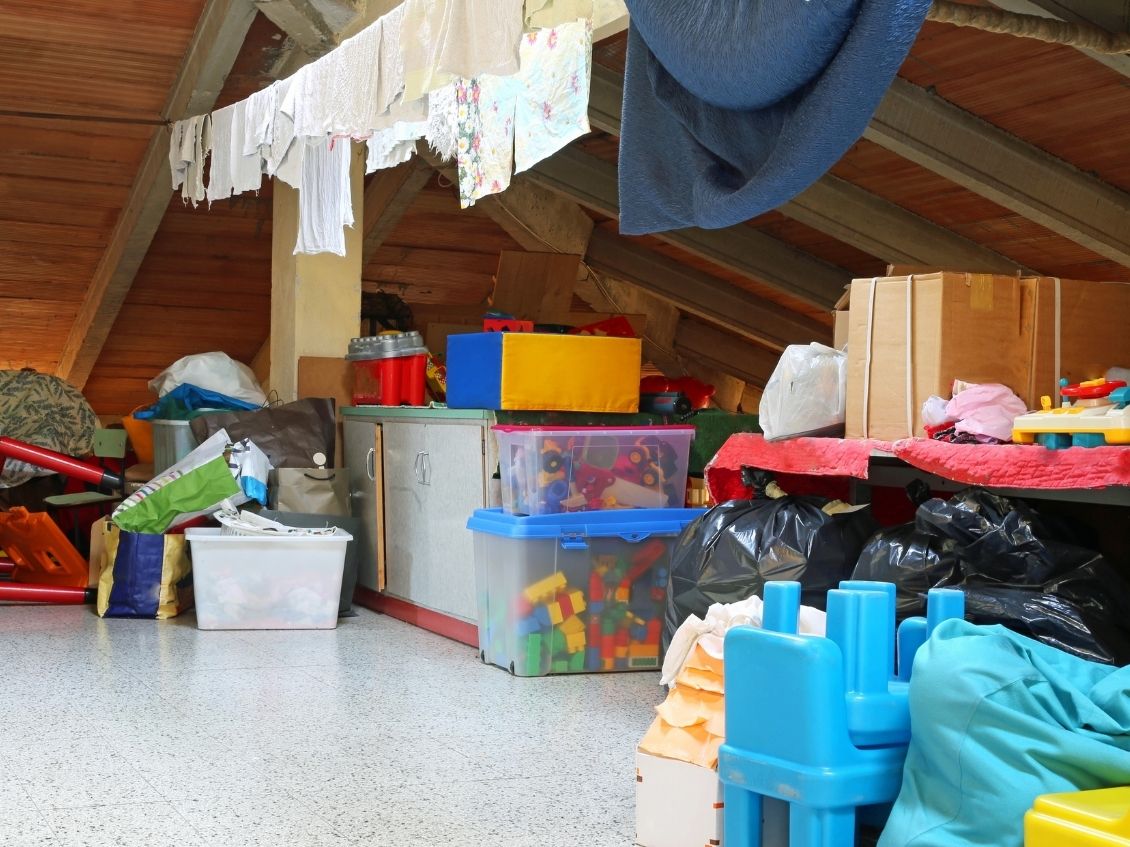 Of all the places in our houses to hide things we no longer want to see, the attic might be one of the worst places to put them. Not only is it a hassle to get anything up into the space, but you may as well say goodbye to it forever. It's highly unlikely you'll be traveling up there for any other reason. For most of us, our attics are simply storage space, used for everything that doesn't have a place but that we can't bring ourselves to throw away. If you're sick of thinking about all the things stashed away in your attic and want to clean it, there are some things you should keep in mind. With these tips for cleaning out your attic safely, you'll be able to get a fresh start and possibly save yourself some future headaches.
Determine Safe Accessibility
One of the most dangerous parts of cleaning out your attic is the inevitable climb and descent from the space itself. Whether you have a pull-down ladder or an actual staircase, it's likely that it's not in the best shape compared to the rest of your home. Before you can do any sort of real cleaning, you'll need to figure out how safe your passage into and out of your attic is. Remember to keep the areas as well lit as you can, as this will help you see what you're doing even as your carrying boxes and furniture down the steps. You want to minimize the chances of tripping and falling as much as possible.
Minimize the Amount of Travel
The most dangerous part of cleaning your attic is the moments when you're actually bringing something down the stairs to throw it out. Obviously, you want to minimize this situation as much as possible. In order to do this, you'll need to be a bit more strategic about how you remove things from your attic. Don't use a whole trip to take a few small things down at a time. Consolidate items as much as you can so you don't need to make the downward trip more often that is necessary. At the same time, don't overload yourself with so many things that you can't see where you are stepping or what is right in front of you.
Carefully Inspect the Attic's Flooring
As attics are rarely used and don't receive a lot of maintenance, you're going to want to be wary of everywhere you step while you're up there. Things such as loose boards, nails that stick up, items fallen on the floor, and other hazards can make a normal trip to the attic a dangerous one. You can avoid anything like this affecting you by completely clearing out your exit route of anything that could get in the way. This extends past your attic as well; always keep your cleaning route free from anything that could get in your way. You never know when you'll be carrying something heavy and accidentally trip because of something that was misplaced.
Start Near the Attic's Entryway
Another tip for cleaning out your attic safely and efficiently is to think about your plan of attack when it comes to removing things. We recommend starting close to where you enter the attic and spreading outward from there. In this way, you lower the number of items in your way of the attic's entrance. The less that's in the way, the quicker and safer it will be to remove things from the attic. As the attic gets less and less crowded, you won't have as much to worry about by the time you are moving things from the back of the space.
Wear a Mask To Protect Yourself from Dust
Even if you regularly go into your attic, the chances are high that you'll have quite a bit of dust in there. This dust will definitely get kicked up as you move things around and clean. You may think that a little dust is no big deal, but there will be a lot of dust over a short amount of time if you're trying to clean out your entire attic. Protect your lungs and wear either a dust mask or gas mask to keep yourself safe. Prolonged exposure to lots of dust can cause an accumulation of particles in your lungs and lead to some pretty nasty health effects.
Check the Attic for Mold and Moisture
Another reason you might want to invest in a nicer gas mask is the possibility of mold and mildew growing in your attic. Even the slightest bit of a leak in your roof or siding can cause the production of mold that could be harmful to your health. If you think that you might have a mold problem, the best thing to do is to call a professional for advice. The mold may not be harmful to your health, but it could still be harmful to your house's integrity as a whole. Take these issues seriously as you look over your attic, they could just save you and your house a lot of hassle.
Keep the Temperature in Mind
Remember that as the temperatures increase or decrease, your attic's environment will also change. If you're planning on doing an attic cleanout in the middle of the summer, it's important to keep in mind that heat rises. Your attic could be the hottest place in your house and on particularly hot days, and this heat could seriously affect you as you exert yourself moving things around. In the winter, your attic may not be temperature-controlled, and heavier jackets and gloves may be required.
When the time comes to really get down to business and clean that attic out, Vine Disposal wants to make sure that you are able to do so efficiently and safely. When you need a place to put all of that excess junk, our 15-yard dumpster rentals are exactly what you need to make sure that you have enough space for everything in your attic. As long as you keep these issues in mind, cleaning out your attic doesn't have to be as perilous as it may seem. Be methodical in your approach and you'll have a fresh, clean space in barely any time at all.