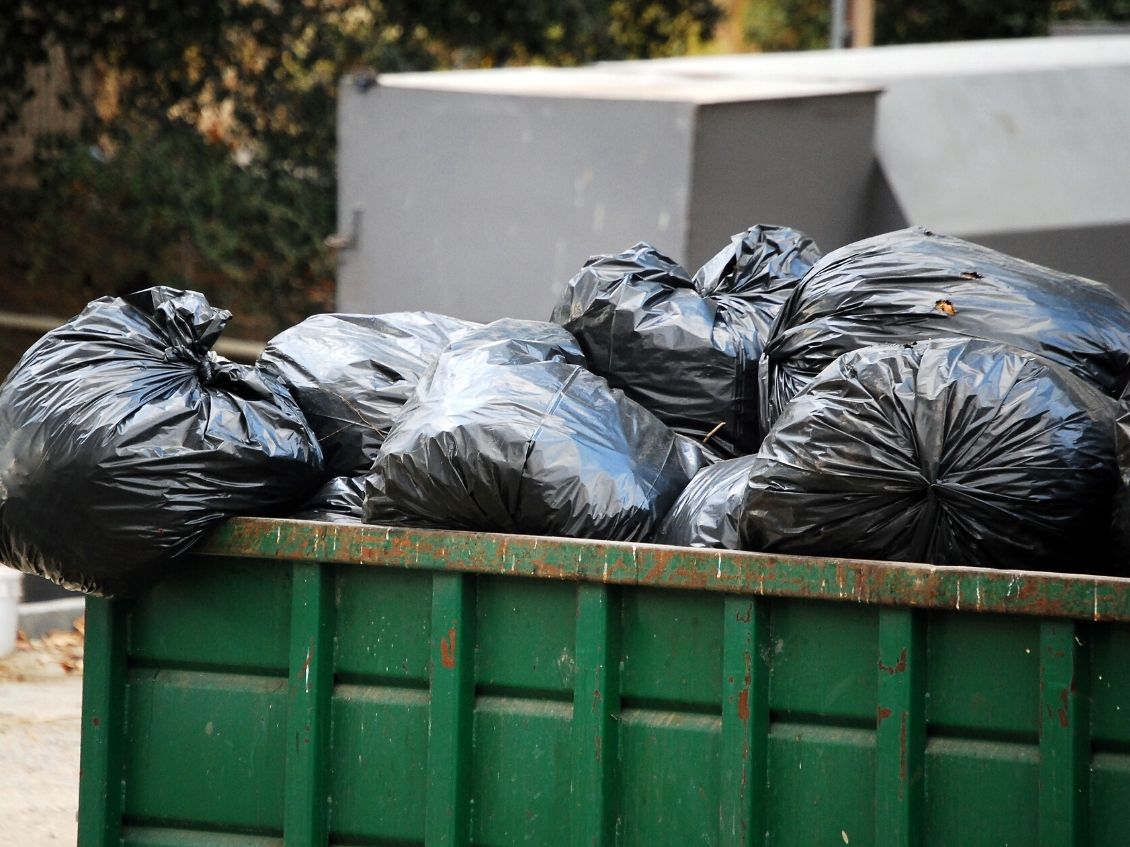 If you've never rented a roll-off dumpster before, you might wonder what exactly you can use it for. Thankfully, that question has many answers. The dumpsters we provide here at Vine Disposal are perfect for a ton of different jobs. Whether you're renovating part of your home, cleaning out someone else's estate, or your business is making a big move to a new office, our dumpsters can be invaluable for making the process much easier.
All these projects tend to generate more trash than one might initially think. The amount of garbage you have is one problem you'll need to contend with, but another is the many different types of waste you'll need to throw away. We're going to walk you through the different types of waste you can put in a dumpster so that you know you're in the right when you toss something inside of one.
General Trash
The first and most obvious rule regarding the things you can throw away in your dumpster—anything you would normally toss into a garbage bag in your home, you can also throw into one of our dumpsters. Feel free to toss food products, paper products, glass, cardboard, and anything else that you would feel comfortable with throwing into the kitchen trash can into one of our dumpsters without a second thought. If you're doing a home cleanout, this will be a large bulk of the trash you deal with as the project progresses.
Empty Aerosol Cans
A tricky item that trips many people up when it comes to proper disposal is aerosol cans. Whether they initially held paint, cooking spray, or whatever else, are you supposed to throw them in the garbage? When it comes to our dumpsters, the answer is a resounding yes. Aerosol cans can seem like a hazard to throw out, but as long as you ensure they are empty, there really is no problem with throwing them into a dumpster.
Drained Batteries
What were once items that you needed to dispose of carefully, you can now throw out in a much simpler manner. You can put common battery types, such as AAA, AA, C, and D, into your dumpster. We will take care of disposing of them properly. While they used to contain more harmful chemicals, these types of alkaline batteries now meet standards that allow you to throw them away with the rest of the trash. However, you should still do your best to recycle your larger batteries whenever you can.
Appliances
Yes, you can dump your old appliances into our dumpsters. However, there is one very important step that you must take before you throw them away. Whatever the appliance is, you'll need to completely drain it of any harmful fluid that it might contain. You can throw away things such as AC units, washers, and dryers once you've drained them completely. You can even throw away refrigerators, provided you've cleared out all the freon inside of them. If you cannot do this yourself, it may be a better idea to have a service haul it away separately, just to ensure proper handling.
Furniture
You can dump almost all furniture into a dumpster with no problem. We recommend a larger dumpster if you need to dispose of a lot of furniture, such as our 30-cubic-yard dumpster. Anything made of wood, but especially furniture, you can throw in a dumpster without a second thought. However, the one caveat of this is that upholstered furniture has different dumping rules based on where you live. If you plan to dispose of a large amount of upholstered furniture, check into your county's dumping rules to make sure you don't need to take any extra steps to prepare the furniture for dumping.
Electronics
Some electronics can go into a dumpster. Again, this is on a case-by-case basis. You'll need to check your local regulations to see if you can throw away e-waste. Common electronics you can throw away include television sets, computers, printers, and old cell phones. If you're throwing away a large number of electronics—for example, if you're moving offices and throwing out a lot of computers all at once—you may need to register them as e-waste. If so, the proper disposal of these items can necessitate an extra charge on top of the dumpster rental.
Landscaping Materials
Natural waste from projects such as landscaping can pile up very quickly, no matter how small your project may be. This type of material usually includes dirt, wooden branches and twigs, stone, and other organic waste. You can place all these into your dumpster, which makes having one for large landscaping projects essential. The last thing you want is to have to move all that dirt and debris yourself.
Roofing Materials
Another special class of waste you can throw away in one of our dumpsters is roofing material. Redoing or installing a new roof means that the old roof shingles need to go somewhere. If that is the intended purpose for your dumpster, you'll need to let us know beforehand so that we can prepare to dispose of those shingles properly. Depending on the size of the house, you might fill up your dumpster faster than you think. Make sure you're getting the right dumpster for your needs.
Construction Debris
Two types of construction debris can go into your roll-off dumpster. The first category is lighter construction debris, including items such as drywall, plaster, and wood. You can toss these items in a dumpster without any problem. The second category is a little more involved. You'll need to let us know ahead of time if you need to dispose of heavy construction debris, such as concrete, asphalt, or brick, so that we bring the right kind of dumpster for your job. If you don't, these materials can quickly put you over your weight limits if you're not careful.
Vine Disposal knows that trash disposal is one of the least appealing parts of a large project like a renovation. We want to make the process as smooth and painless as possible. If you still have any questions about what can go in your dumpster, feel free to give us a call so that we can better inform you!