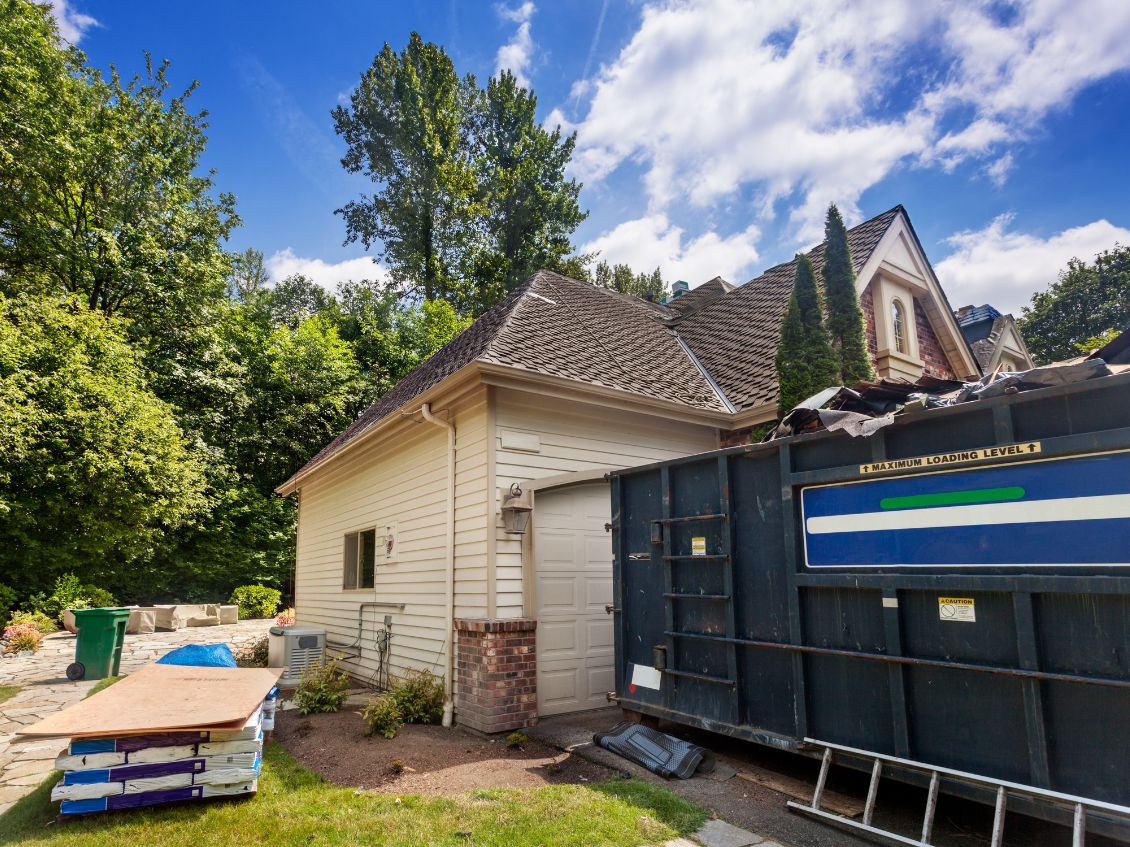 It's a dumpster, so you probably don't think much of it. Many people believe that after they rent one, they can treat it with little to no care and dispose of any items they want. This is a false assumption. Acting this way with your dumpster rental is a quick way to damage it and render it useless.
Chances are you rented the dumpster for a specific project and want to ensure you get the most out of your rental. Here are 10 helpful tips for properly loading a dumpster.
Proper Placement
You've probably seen dumpsters in front of homes or taking up parking spaces on the street. And they may look randomly placed, but they are not. Careful planning went into this placement because if it did not, it could compromise the use of the container.
Survey and measure the area you have in mind to ensure it will fit the container. Next, make sure the ground is dry. Avoid having the dumpster delivered on a rainy day, and don't place it on grass or dirt. You don't want to risk the dumpster getting stuck if there's an unforeseen rainstorm.
Break Down Items
Getting as much use out of the dumpster as possible is important. That means you need to break down some of the bulkier items. It's easy to throw them in along with everything else but fight that urge. You may think you don't need to break down the bigger items because of the dumpster's size, but you'd be wrong.
It can fill up quickly, and then you'll have a problem on your hands. Try and break down these items as best as you can. Disassemble them if you must and place them at the bottom of the dumpster before adding other smaller items.
Filling Strategy
There is a science to loading up a dumpster. Most dumpster rentals come with either one or two trap doors. It makes it easy to load your items without overexerting your body. Start the filling process from back to front. Try and avoid throwing items overhead.
Instead, consider walking to the end of the dumpster with your items and filling it in as you walk out. Neatly arrange everything to optimize the best even more. As you work your way to the door, you'll see how much room you have left in the dumpster and can better gauge when you need to empty it.
Specific Items
There are specific items you can place inside a dumpster and things you can't. People often believe anything can go inside, which is one of the biggest misconceptions regarding these containers. Some items are hazardous and could lead to fires or chemical reactions.
Check with your rental company to see what items you can place inside. Here at Vine Disposal, we can thoroughly explain what's acceptable and what's not. We can even offer suggestions on how to discard specific items for the project you're working on.
Choose the Correct Size
You don't want to go too small because you'll face the problem of overloading your dumpster. Sometimes it's hard to gauge the size you require, and renting one that does not cater to your needs can waste time and money.
Our 40-yard roll off dumpster rentals can handle bigger projects and feature plenty of space. These containers will handle things like store cleanout and large construction projects. With one of these, you'll avoid making several trips to the dump to empty the container.
Build a Ramp
The filling strategy only lasts until the entrance gets blocked. Eventually, using the side doors could prove difficult. When that happens, you will have to start throwing things overhead. But there is a proper way to do this.
You want to see where the items land so you know which side is filling up faster than the other. Get yourself a ramp or step ladder to make the discarding process easier. Pay attention to where things end up and check on the container to ensure the loading continues smoothly. Some consider adding a ramp on the inside as a precaution.
Safety Equipment
Always remember safety first. You don't want to approach or throw things into the dumpster without making sure you're prepared. Wear protective gear when you start discarding items, and never approach or enter the container with open-toed shoes. You never know what sharp objects are lying around.
Wear sturdy boots, long pants, gloves, and eyewear if necessary. This is an excellent tip if you're working on a housing project that contains asbestos or mold. Above everything else, protect yourself.
Secure the Container
The top of the container is open, making it a little more challenging to secure. Consider placing a tarp on top to discourage animals from getting inside. Tying the tarp down on the sides makes it especially hard for critters to enter the dumpster. Because once they are in, it might be hard for them to get out.
Make sure you lock and latch the doors located on the sides for additional safety. Like you don't want anything to get in without your knowledge, you don't want something to seep out either.
Avoid Overfilling
Overfilling a container can lead to huge problems. For starters, it could make the rental more expensive for you. If you exceed your weight limit, the company could charge you an additional fee because it makes it difficult for them to unload and empty the dumpster.
Never let it get to the point where things start to spill over or exceed the top bracket of the container. This indicates that you have already or are about to exceed the weight limit. Sticking to the restrictions of the dumpster is for the safety of everyone.
Choose an Expert
Go with your gut and hire a company directly. Don't use dumpster brokers because they may not give you the right information. They won't offer suggestions or remind you of the rules and guidelines regarding the container.
Hire professionals like us! You want your container to arrive on time and get picked up on time. With a dumpster broker, those times are always up in the air.
These are just some of the helpful tips we provide about loading dumpsters, and we offer so much more. For more information, visit our website.