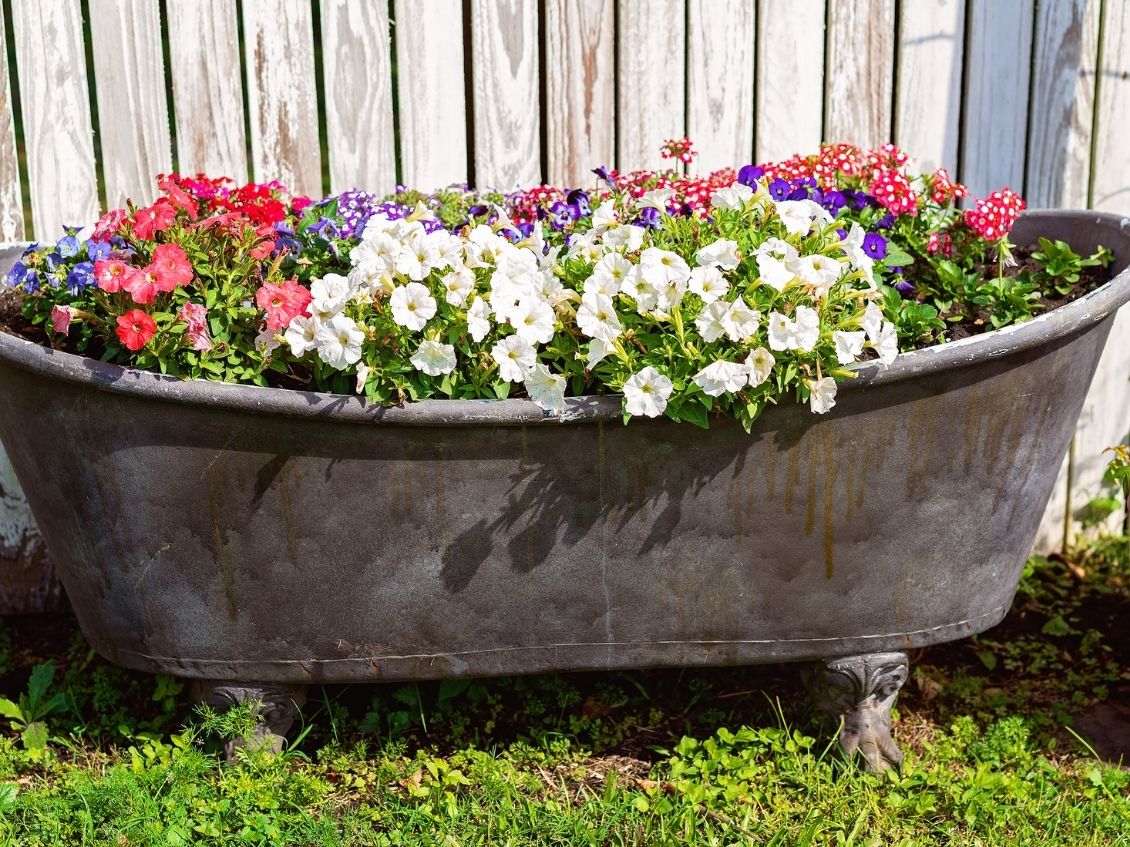 It seems easy to cultivate a garden, but it takes time and energy to perfect it into the image you see in your mind. If you have lots of plants in your yard that you haven't found the perfect pot for yet, you'll soon see there are some shocking household items you can repurpose for your garden. To truly repurpose these items right, all you need to do is have an open mind and get those creative juices flowing.
Dresser Drawers
If you're looking for something easy to use, consider using old pieces of furniture you're planning to throw out. For instance, if you have an old, unused dresser you'll be psyched to find out its drawers are perfect for plants. They can be used to store your gardening tools or as a quick planter box when you've run out of regular planter holders.
Mattress Springs
If you've done some updates to your bedroom recently, you might not know what to do with your mattress springs. Instead of tossing them out, consider using them as a trellis to keep and support your growing plants and vegetables.
Lamps
Lamps often get dumped, but most people don't know that you can use their old bases as supports for birdbaths. All you need to do is glue a large plate or dish to the top of the lamp base. Or, if you aren't interested in birdbaths, you could use the lamp base to elevate or display a few of your favorite potted plants.
Pallets
Pallets are fun to experiment with. While you can use a pallet for a raised bed or a shelving unit, you can also use it in many distinct ways for your repurposed garden. From garden furniture to housing plants and letting the vines from rose bushes entangle themselves around the pallets, pallets will make a massive improvement for your garden.
Tires
Tires come in handy for many purposes, but what happens if they're no good? You could recycle them by requesting a dumpster rental in Atlanta such as Vine Disposal. Vine Disposal can easily match you with the right dumpster for all of your waste management needs. If you're leaning towards reusing the tires, however, consider repurposing them for your garden. For instance, you could turn the tire on its side to hang as a makeshift pot or lay out some soil in its middle and use it as a giant planter.
Pennies
This might shock you, but since pennies are made from copper, they act as a successful fungicide to protect your plants. Line your pennies up around the garden and bury each of them. The copper from the pennies helps keep the soil healthy and your plants free from fungi.
Essential Oils
Essential oils are an odd contribution to this list, but they're actually very beneficial for your garden. Using a few drops of essential oil can help improve the conditions of your plants and the garden as a whole. They can help attract pollinators such as bumblebees and butterflies, kill fungus, and even prevents animals from digging into your plant beds.
Spices
Here's another that'll shock you: spices. In fact, certain spices like chili powder, Mexican or Cajun blends, and even cayenne pepper make outstanding pesticides. Simply sprinkle a few spices around your garden or mix them with water in spray bottles so you can use them on affected plants.
Epsom Salt
Another fun one we're happy to share on our list is Epsom salt. It's more than a condiment to put on your food! This magnesium-rich mineral can help bring positive benefits to your garden. Epsom salt prevents the growth of weeds in cracks and driveways, can extend the lifespan of cut flowers and is even used to scrub pots. Also, Epsom salt helps improve seed germination, prevents transplant shock, and can even deter pests from visiting your garden.
Plastic Containers
Using plastic containers for plant holders can be a fun project for you and your family. Yogurt containers, ice cream tubs, and other plastic receptacles can be used as places to store seeds and even trap bugs. The only downside to using plastic containers is you can't grow food in them unless they're constructed from food-grade plastics.
Dog Bed
If you recently had a dog chew up their favorite rubber or plastic bed, the beds can still be salvaged. Put the dog bed outside in the garden and place bushy plants over the destroyed areas. The plants will grow into them and result in a unique and creative plant holder.
Bathtubs
Bathtubs are a fun item to repurpose since you can paint and stick them with whatever design you'd like. Bathtub plant holders have a vintage country cottage feel to them, and they're incredibly appealing. You could even decorate the perimeter with vintage tea containers for added flair.
Old Books
Even if you cannot display them on the ground due to fear of them getting stepped on or damaged, you can lay your book planters out on a picnic table to be admired. All you need to do is bore a hole into the book and then glue another book on top. Then, flip the book over to expose the spot, and place a plant on top to create your plant holder.
Saucepans
If you've recently replaced coated pans for cast irons, instead of throwing them out, repurpose them for your garden. Eating from chemically coated pans is terrible for your health, but plants don't seem to mind. Plus, saucepans look very creative and usual when they're filled with beautiful flowers. If you have any new flowers, why not plant them in some saucepans?
These are some of the most shocking household items you can repurpose for your garden—and believe it or not, there are plenty more. Repurposing things from saucepans to dresser drawers can prevent you from having unwanted items around your home. If there happen to be even more items you're looking to part with, Vine Disposal can help you out. Contact them for dumpster rental services today.