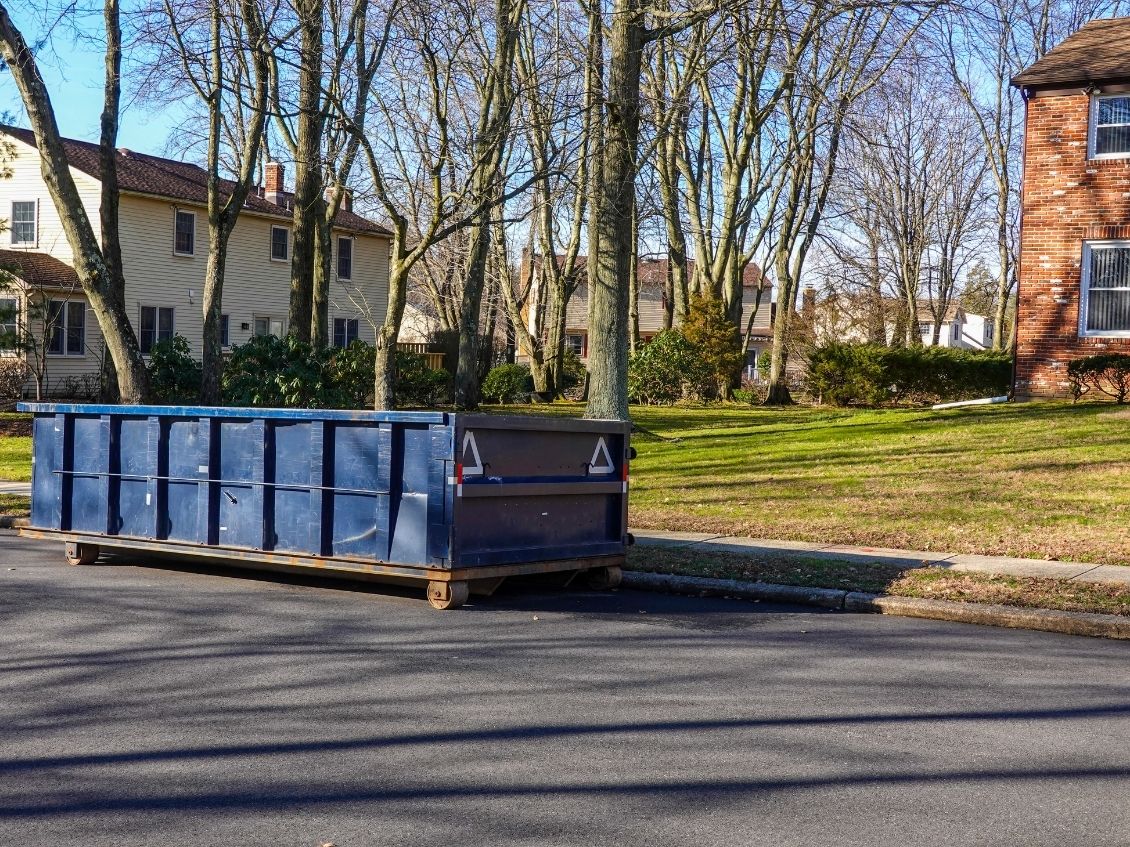 We've come a long way since the first days of summer. Some home improvements you made during the summer are holding up and looking great—but the others that prompted you to wait until fall aren't looking too good. You can complete your projects better when you have a dumpster to help. Here's our ultimate guide on the perks of renting a dumpster for fall home renovations.
The Benefits of Renting a Dumpster for In-Home Renovations
If you need to do more projects inside, consider a dumpster rental. When you use one, you can discard piles faster, which will improve your motivation levels as you move from project to project. As you plan your big renovation projects, look at the benefits of renting a dumpster for in-home renovations.
Dumpsters Keep the Home Safe and Clean
Renovations come with lots of debris such as paint cans, broken pieces of plaster or flooring, old bathroom tiles, and so much more. You won't have to get rid of these messes on your own, however. Waste removal companies provide top-notch services to help remove all the debris. With different-sized dumpster rentals readily available, you can better understand what size dumpster you need for each project and choose the right one.
Promotes a Safe Renovation Work Environment
If you want to prevent pests from moving in, keep all debris piles to a minimum. When you're working on a fall home project, you'll need a dumpster that can help control the resulting piles of rubbish. At Vine Disposal, we can provide you with the right dumpster size for every project you have planned throughout the year.
Eco-Friendly Dumping
If you don't rent a dumpster or if you request one too late, rodents could be roaming around the piles of broken material. Rats and mice are attracted to untidy areas. That's why getting a dumpster is so essential: since it'll keep all your trash in one place, rodents won't have an easy time making it there home.
The Benefits of Renting a Dumpster for Fall Yard Cleanup
Whether you're re-working a roof or improving your landscaping, it's always helpful to have a dumpster on hand so you can get rid of all the debris from the project. Even if your project is small, having a specific-sized rental dumpster can help you tackle the mess. The sections below cover how you can benefit from a dumpster rental service.
Landscaping Jobs Become Easy
Trying to finish leftover summer renovation work can entail lots of thumb-twiddling as you wonder how you'll get it all done before the end of fall. If this is what you're experiencing, then it's time to stop procrastinating. Rent a dumpster to sort your messes! A rental dumpster in Roswell, GA can help you control debris piles. Everything from fallen tree branches to old furniture can get tossed into one of our dumpsters. You'll finish your project in no time.
Organizing a Neighborhood Clean-Up is Simple
If your entire neighborhood needs a quick cleaning, then we're more than happy to lend you a rental dumpster large enough to help sort out each home's landscaping. When everyone in your community comes together to clean up yards and get rid of garbage, the environment becomes cleaner, healthier, and more welcoming.
Decluttering Has Never Been Better
If you haven't decluttered your home in a while, now would be the time to clean up any old furniture pieces or other miscellaneous junk. This will help improve your landscaping. Having a dumpster for your fall decluttering project can help your life feel organized again. Additionally, it'll reduce the attraction of bugs, rats, mice, and other unwanted rodents.
Why Do You Need a Dumpster Rental This Fall?
Although summer is over, you undoubtedly have some home renovation projects that still need to get finished. Since it's cooler outside, you can start planning a reasonable time frame to finish these projects before winter comes. If you're still wondering why you need a dumpster rental this fall, below are a few example situations that'll convince you.
Roofing and Siding Maintenance
A dumpster can help solve your waste disposal concerns if you're completing a roofing or siding project. If you neglect to take care of your roof or siding, your siding could become warped, your roof will get holes, and critters will find their way into your gutters. Before the first snowfall, contact Vine Disposal for more information on our dumpster rental services for roofing and siding maintenance.
Tree-Trimming Maintenance
If you still have some tree trimming to do, or if some trees in your yard lost a branch or two, dispose of them by putting them in a dumpster. Once you've removed loose and dead tree branches, your home and the surrounding area will have a reduced chance of experiencing dangerous situations (such as large branches falling onto houses.)
Repairs for Deck and Porch
Believe it or not, but your porch and deck won't survive the winter if they don't receive proper maintenance. The wood could break or become discolored. If you're going to do some repairs on your deck or porch, rent a dumpster to make the cleanup process easier. You can keep all your debris and wood in one place.
The Reasons To Rent a Dumpster This Fall
Fall is the perfect season to finish all the projects you intended to finish over the summer. Listed below are a few good reasons to help you figure out why you should rent a dumpster this fall for your home renovation projects.
Controlled Yard Debris
Fall brings with it an accumulation of fallen leaves, weeds, sticks, and mud. This type of debris is excellent for gardens but becomes a hassle when there's nowhere to toss it out. Yard debris is a perfect reason to get yourself a dumpster.
Decluttered Basements and Attics
If you're trying to declutter areas of your house, give yourself a hand by renting a dumpster. If your basement or attic is currently too cluttered to use, you can clear out all the junk and put it into a dumpster. Then, you'll finally be able to use these spaces for something other than stockpiling unwanted things.
Your Home is Ready for Next Year
If you fear putting off projects until next year, then it's time to get in contact with the right services to discuss remodeling options and waste removal. Contact us here at Vine Disposal! We can help control the accumulation of waste during your home renovation.
At Vine Disposal, we understand why you might hesitate to complete renovation projects: they're intimidating. However, when you work with us and rent one of our dumpsters, they don't have to be. We review what waste is allowed in our dumpsters, what dumpster size is right for you, and more. If reading our perks of renting a dumpster for fall home renovations convinced you, then contact us, and we'll get you matched with the right dumpster rental.