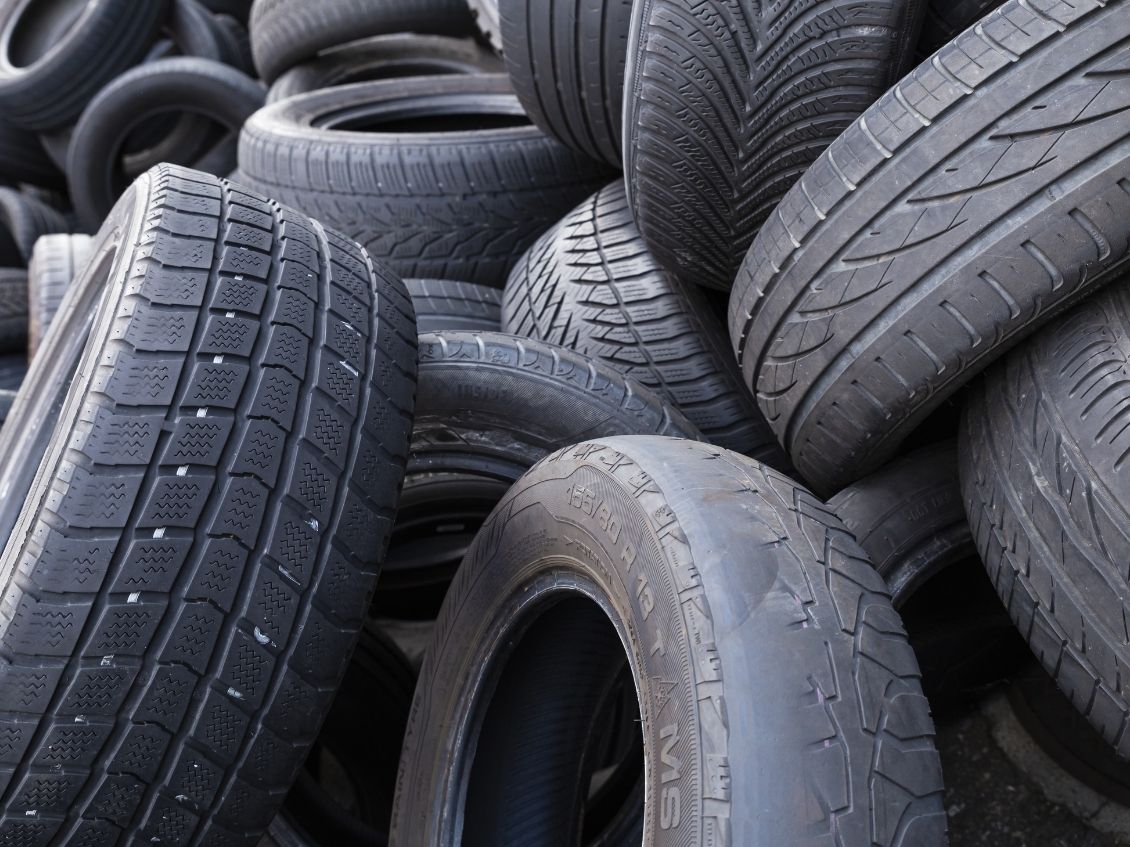 While renting a dumpster can be a huge weight off your chest when the time comes to remodel or get rid of some things, it's not the end-all and be-all of disposing of trash. Vine Disposal wants to help you finish your project, no matter what it may be, but there are certain things that we can't accept in a roll-off dumpster. Here we'll take you through some of the items you can't put into your dumpster rental so that there aren't any annoying surprises during the pickup process.
Tires
Old tires can be a hassle to deal with because of how much space they can take up. Unfortunately, most landfills do not accept tires in their trash, as the rubber and other materials are very harmful to the environment. You can still get rid of them, however, by taking them to a tire dealer or a recycler. These facilities can turn old tires into mulch for making asphalt, so it doesn't have to go to waste.
Mattresses and Box Springs
As a common item in cleaning out a house or estate, mattresses actually have stricter guidelines for disposal than you might think. Some places will pick them up from the road, but usually, you will have to pay a service to remove them and break them down. Because they don't break down naturally and can have harmful materials inside of them, mattresses and box springs should not go into your dumpster rental.
Refrigerators
No matter how old or new a refrigerator might be, it should never go into a dumpster with other trash. The refrigerant inside the machine is usually very harmful to the environment if it seeps into the ground beneath the landfill. You can usually call your local sanitation department's bulk debris pickup program to have someone who is qualified come to your house to remove the refrigerator for you.
Paint and Lacquer
Make sure to ask about paint and lacquer—sometimes these are on a list of what can't go in a dumpster. Extra paint cans and cans of lacquer—the result of many home improvement projects—cannot mix with other trash in a roll-off dumpster. It would be impossible to ascertain the contents of the cans before dumping, which means that, if they somehow have lead or mercury in them, they could do a lot of damage to the water tables. You can, however, throw out empty paint cans and completely dried-out latex paint cans.
Batteries
In this instance, we're talking about larger batteries, such as the one in your car. However, one shouldn't throw batteries of any sizes in the trash. These batteries often contain lead acid, which can be extremely caustic and bad for the soil of a landfill. There are plenty of sustainable ways to recycle old batteries, so refrain from throwing them away with the rest of the garbage. Reach out and ask what cannot go in a dumpster.
Hazardous Materials
This one should be obvious, given the name, but certain hazardous materials definitely do not belong in a dumpster. Examples include substances such as asbestos, pesticides, motor oil or automotive fluids, contaminated soil, and medical waste products such as needles. All of these items can be dangerous, not just to the environment but to the people who handle your trash as well. Refer to the individual guidelines for disposing of each of these kinds of materials.
Home Cleaning Products
Like most of the other items on this list, chemical cleaning products and solvents do not belong in a dumpster because of the detrimental effect they can have on the environment when left in a landfill. You can dispose of the bottles themselves in a dumpster, assuming that you have drained them of any residual chemicals.
Ink and Resin
To avoid staining the inside of the dumpster, and to avoid the effect these have on soil contamination, ink and resin products should not go into a dumpster. There are many programs that will take your old ink cartridges and recycle them. You should never throw resin in the trash and should always dispose of it on its own. Check with your waste management company about what can't you throw in a dumpster.
Concrete Pieces
If you've rented one of our dumpsters to do some major remodeling that involves a lot of leftover concrete, you should know that we have a specific kind of dumpster that you will need to rent. Concrete, given its size and weight, shouldn't mix with other trash. By separating this waste into one disposal unit, we can deliver the entire load to one place that will effectively recycle and reuse the old concrete you've torn up.
Roofing Shingles
In a similar vein to concrete, we recommend not mixing large amounts of roofing shingles into your regular trash. Roofing shingles are very easy to recycle to make new ones, so throwing them away creates unnecessary waste. They also add a lot of extra weight onto the dumpster, making it more difficult to haul away. If you're redoing an entire roof with shingles, you may want to get a large recycling container instead.
Televisions
Televisions, especially old tube televisions, should never go in with the rest of the garbage in a dumpster. While this is permissible in some areas, it is more common for televisions to need separate dismantling and recycling. Vine Disposal does not take televisions as valid parts of a trash pickup.
Hot Water Tanks
Large hot water tanks create a unique problem if they ever end up in a landfill. The void space created by their interiors is the perfect place for dangerous gases or fumes to build up over time. For the safety of everyone, hot water tanks cannot be thrown away with everyday trash in a dumpster.
Vine Disposal has provided this list of what cannot go in a dumpster rental so that you can be ready to handle the trash that doesn't belong in one of our dumpsters. Whether you need a 10-cubic-yard dumpster for some simple house cleaning or a 30-cubic-yard dumpster for larger construction projects, Vine Disposal is here to help you remove anything you no longer need. Contact us for information or any questions you have about what is not allowed in a roll of dumpster, and we'll be happy to help you in any way we can.