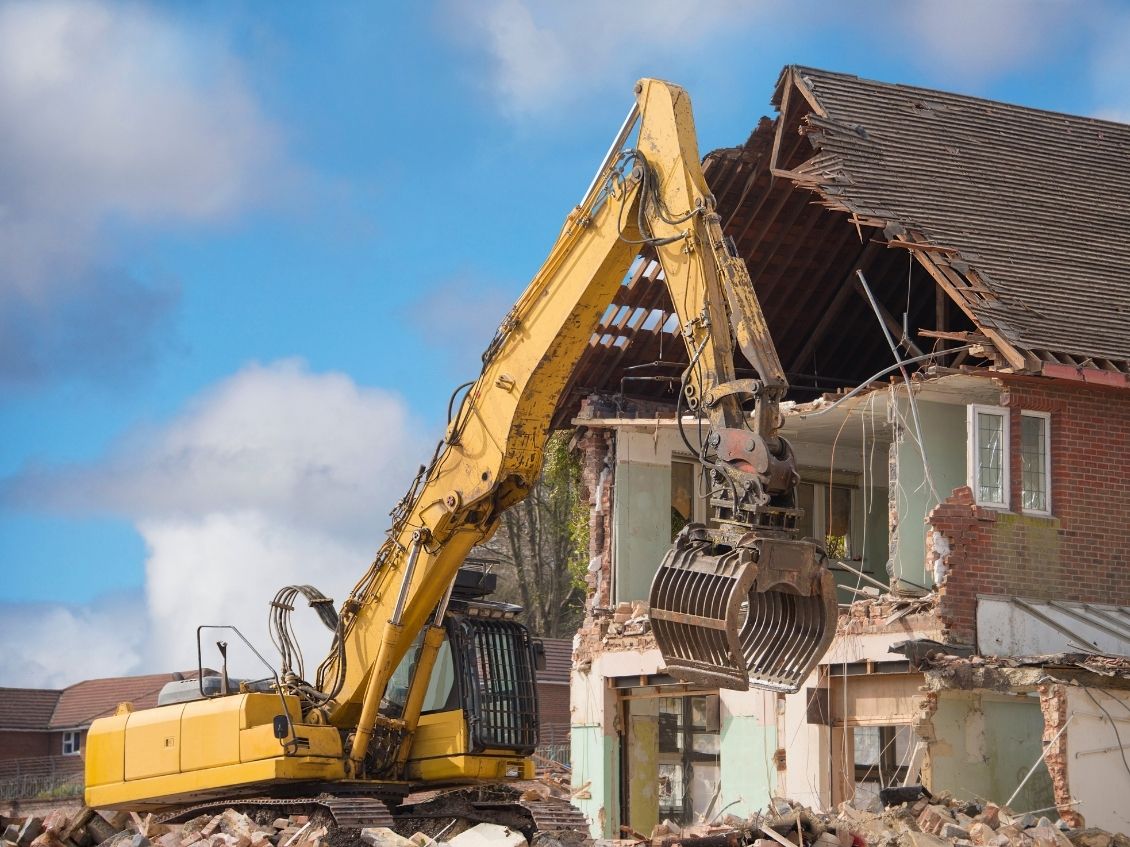 When it comes to partially or completely demolishing a building, it is inevitable that you will have a lot of waste materials to deal with. These materials are often a little more complex to deal with than simple garbage, and you will have to put in a little extra effort to make sure that everything is disposed of properly. Failing to correctly dispose of certain materials can have detrimental impacts, both financial and environmental, so it is crucial that you get them right. This article will teach you how to properly dispose of demolition debris so that you worry less about the waste and more about the job itself.
Household Trash
This category of materials is what you would normally think of when you consider something trash. Old furniture and small odds and ends fit in this category and can generally be left to your curbside trash pickup. However, there are a few situations where you probably want to try something else, especially if demolition is the name of the game. If the amount of trash is going to be more than you can easily roll away with a hand cart, you are going to need a larger solution.
When demolishing a building that has a lot of miscellaneous items that you need to get rid of, your best bet is to rent a dumpster instead of trying to haul it all away yourself. Vine Disposal has everything you need in this regard, from 20-yard dumpsters for smaller jobs to 40-yard dumpsters for the truly massive demolition procedures.
Appliances
Before you put old appliances on the side of the road with the rest of your household trash, you may need to inspect them for certain hazardous materials. Certain appliances may contain lead-based paints, batteries, Freon, and certain liquids that cannot be disposed of normally. This also includes fluorescent lightbulbs. You will need to contact your city's solid waste department to find the place nearest to you that allows the disposal of these hazardous materials.
For appliances like microwaves, stoves, washers, and dryers, you can dispose of them normally or you can donate them to places like Habitat for Humanity who can repurpose them for those who need them. If you go the disposal route, remember that appliances will probably take up more room than you think, so it is always safer to get a larger dumpster than you think you will need if you want to pay the least amount of money for one.
Construction and Demolition Debris
When your demolition is going to get all the into the bones of the building, your need for a dumpster becomes even greater. You could feasibly drive all the debris to a waste center yourself, but this is often out of the question given driving times, hazardous materials, and the sheer amount of waste that is generated from a demolition project.
Here is a list of common construction and demolition debris and how it should be disposed of.
Concrete
If you are going to be disposing of a lot of concrete, you are going to need to do it multiple smaller dumpsters in order to not weigh the truck down too much when it hauls it away. Concrete should be given its own dumpster and not mixed in with other materials.
Lumber and Wood
While wood can simply be disposed of, it is often a better practice to recycle and reuse wood and lumber that is generated from demolition. Not only is this good for the environment, but it also can reduce the overall cost of disposal since the wood will not take up extra weight or space in the dumpster. Remember that this can include both structural timber and wooden flooring as well.
Siding
Certain sidings are very desirable for reuse, one of which would be cedar siding. To cut costs even more, consider reselling old siding online to make back some of the cost of demolition. Other sidings, like vinyl, are less in demand, and the most cost-effective way of removing the siding of an entire building is to rent a dumpster to haul it away.
Roofing
Almost all roofing material, including shingles, is considered to be heavy waste. Therefore, like concrete, if you are removing a large amount of roofing, you will need to do so in its own dumpster and not mix it in with other materials.
Carpeting
Ripping up carpeting may be a pain, but it is less difficult to get rid of than a lot of other materials. Sometimes, depending on where you are, you may be asked the cut down carpeting into certain lengths in order to better fit the disposal unit you are going to use.
Metals
Keep in mind that metals are still valuable, even if they are used. As long as they are not rusted or beyond repair, metal can be resold to further cut the costs of remodeling and demolition. You may need to take scrap metal to a recycling scrap yard yourself, but it is worth it if you can recoup some of the cost of those materials.
Yard Materials
Yard waste is generated a lot when you are doing heavy landscaping work. Because it is natural material, the best way to recycle this waste is to put it in a compost pile. However, this is not always an option, and your best bet, in that case, is to dedicate a dumpster to this kind of waste. Yard waste is another material that should not be thrown in with other dissimilar materials. Keep all your organic waste in the same dumpster so it is easier to dispose of correctly.
Household Hazardous Wastes
There are certain materials that we keep in houses and businesses that cannot be disposed of in the normal way of just throwing them in the dumpster. This category consists of things like motor oil, household cleaners, lead-based batteries, certain chemicals, and fluorescent lightbulbs. Items like these can cause serious damage to the environment and even to humans directly, should they get in water supplies or the soil.
Now that you know how to properly dispose of demolition debris, you can confidently begin your next demolition project with the knowledge you need to do it right. While you are working, Vine Disposal wants to be right next to you, ready to remove any waste that your project might kick up safely and efficiently.