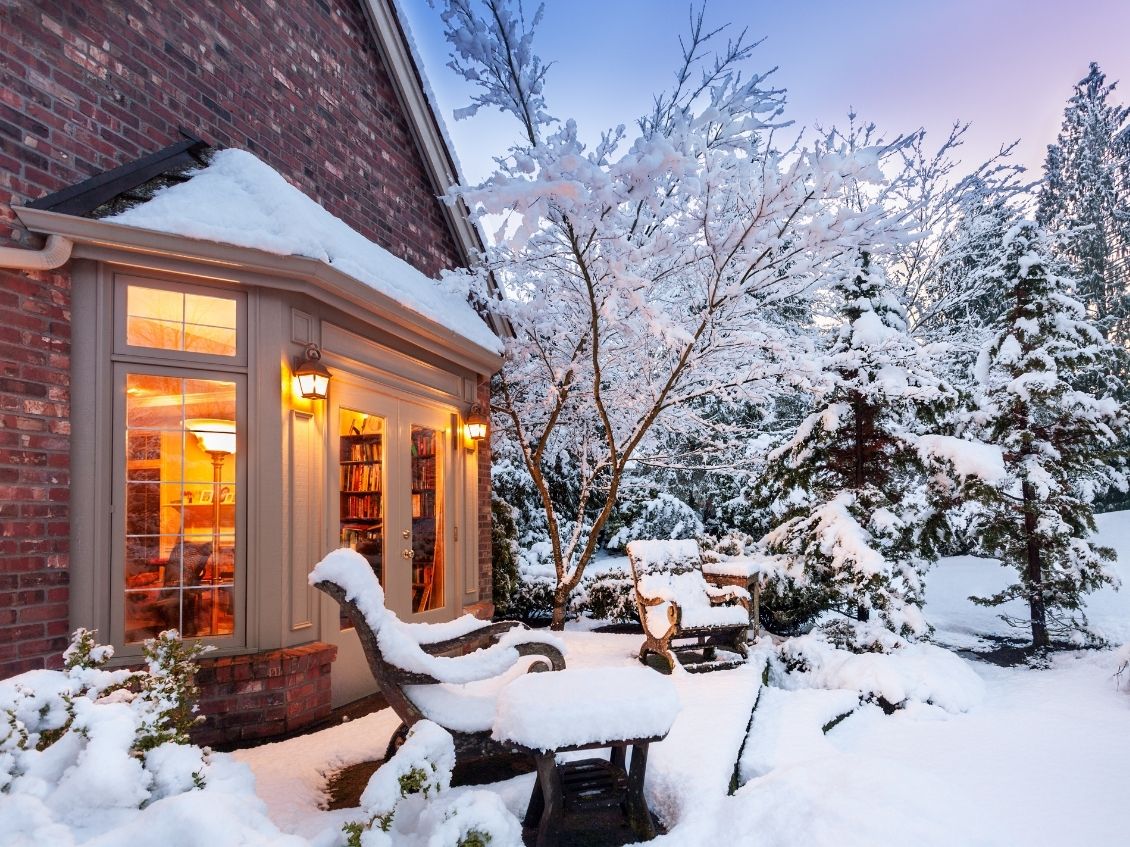 Those of us who must prepare for winter every year are getting ready to do it again. There's a lot that goes into preparing a house for winter. Your home is your first line of defense against the cold, and it deserves some care and attention. It's especially important to do home maintenance as early as you can so that you don't have to deal with it during the coldest months of the year. To make sure you're ready, we've compiled a guide on how to prepare your home for winter so that you can focus on staying warm and cozy inside of it rather than dealing with repairs.
Drain Your Outdoor Water Lines
One of the last things you want to deal with in the winter is a burst pipe. Not only does this cause a lot of damage to your home, but it's also entirely avoidable. Drain and blow out any water lines that you have that run outside to prevent any water from freezing over once the winter hits. You can do this yourself if you have the know-how, but most people prefer to hire a professional to do this for them. It is well worth the price to avoid having to deal with a pipe bursting on you in the middle of winter.
Clean Out Your Gutters One Last Time
Chances are, if you care for your house, you've been clearing the gutters of leaves and debris throughout autumn. If you haven't, or if there have been more falling leaves since the last time you cleaned them, you'll definitely want to make sure they are completely clear before winter sets in. During the winter, these leaves and debris can freeze over, making it difficult for water to drain from the top of your home. If you aren't careful, this can lead to roof leaks. There's going to be a lot of snow on your roof, so make sure it has somewhere to go when it melts unless you want to have a rough season.
Check on Your HVAC System
If you live in an area where winter affects the temperature, you know how important your heating and cooling systems are to your house. You certainly don't want to deal with your heating system breaking down because you didn't check on your HVAC unit. At the very least, make sure you change the filters before winter comes. To be even safer, call an HVAC professional and have them do a thorough inspection of your unit. They could find a problem you wouldn't have known to look for, and you're better off taking care of early on before it becomes even worse in the dead of winter.
Seal Any Openings Around Windows and Doors
Over time, the sealant around windows and doors that keeps the air from coming into your home can crack and fall away. Check around all your major entrances and exits to make sure that no cracks or crevices are letting in air. If you find such a place, you can fix this problem yourself with a few simple tools. Mostly, you'll need a sealant, such as caulking, to spread over the area and block the air from getting in.
Clean Your Chimney
There's nothing like sitting next to a roaring fire on a cold winter's day, but when was the last time you really inspected that chimney? If you're like most people, it's probably not as regularly as you should. To prevent any nasty accidents that result from a clogged-up chimney, consider hiring a professional to clean it so that the fumes from your fireplace have somewhere to go and won't continually gather in your home. At the same time, be sure to check that your flue is working properly to avoid any unnecessary mishaps.
Inspect Your Roof for Damage
Your house's roof is your first line of defense against the bitter chill of a snowy winter, so you should make sure it's in good shape while you can still actually see it. Remove any pine needles or autumn leaves if you can, as these can hold excess moisture that could seep into your home. You'll want to keep your eyes open for any shingles that might be broken, lost, or out of place. These areas are where moisture can get into your house, so you'll want to fix them before heavy snowfall comes.
Make Sure Your Smoke and Carbon Monoxide Detectors Are Working
With winter on its way, your heating unit is going to be doing a lot more work. Add onto that how many fires you'll be making in your fireplace, and you've got a recipe for unintentional fires breaking out. To mitigate the risk of harm to you and your family, ensure that your smoke alarm is working and has fresh batteries. Similarly, make sure your carbon monoxide detectors are functional, as this dangerous gas can make its way into your home from any sort of fuel burning, whether it be firewood or gasoline.
Check Your Surrounding Trees
As the leaves fall from the trees surrounding your home, keep a careful eye out for any dangers that may lurk in the boughs. Broken branches or precarious bundles of sticks can become a problem once the weight of snow is on top of them. If you see any large limbs that have snapped or look close to breaking, it's a good idea to remove them now, before they can cause damage to your house or property. Of course, this is another job you may want to leave to a professional to be safe about it.
We hope that this guide has helped you learn everything you need to know about how to prepare your home for winter. Vine Disposal wants you and yours to get through the winter unscathed. We want your home and yard to be as equipped as possible. Whether you're getting rid of a load of yard waste or planning ahead for spring cleaning, our dumpster options, like our 20-cubic-yard dumpster, are perfect for any job.