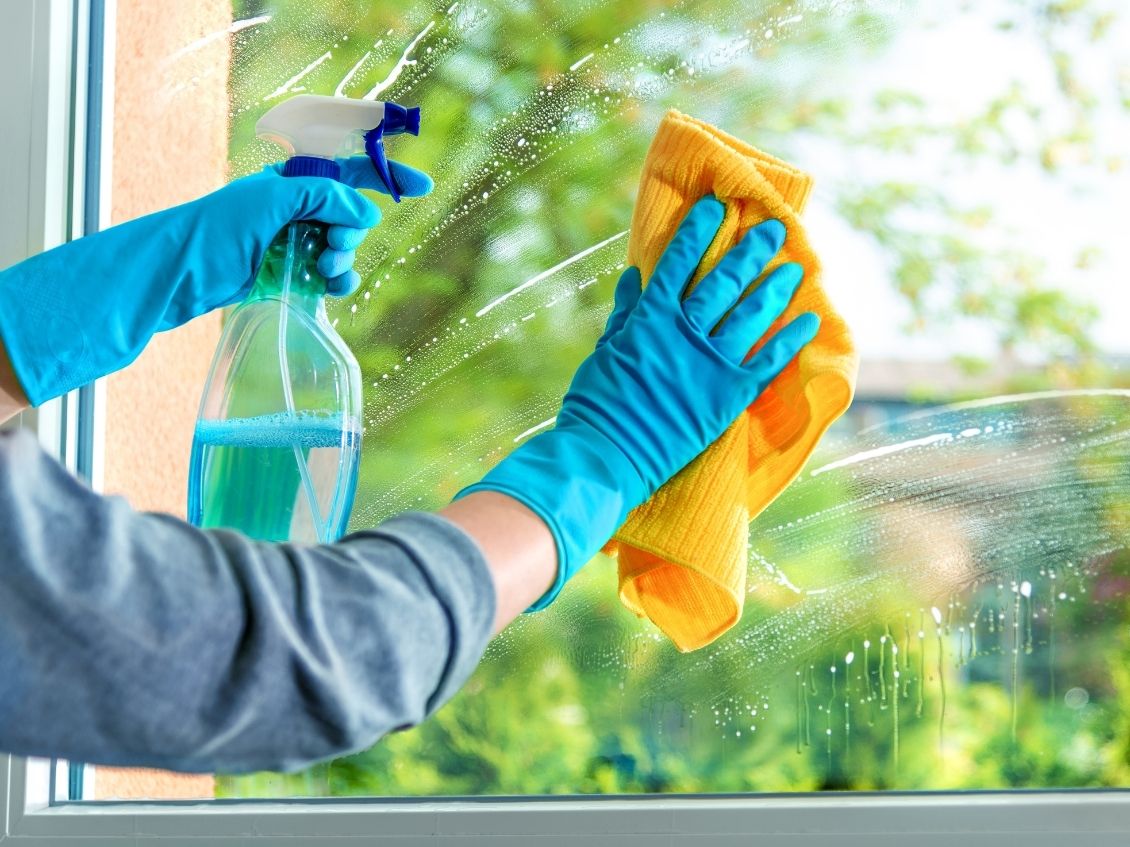 As we see the light at the end of the tunnel that is winter, there's a lot of work you might not realize you've been putting off. That's why spring cleaning was invented after all—to do everything we didn't feel like doing in the winter. Spring cleaning has been around for a long time. If you have a home, you've probably spring cleaned it at least a few times. Maybe you thought it took longer than it should have? Maybe you decided it was just too much to handle? Vine Disposal wants to help you see that spring cleaning can be a good thing. We've come up with some essential steps to spring cleaning your whole home to make the process easier on everyone involved.
Why Is Spring Cleaning Important?
So, why do we spring clean? Why do so many people do it and think it's important to do? Spring cleaning is the perfect time to catch up on all the little things around the house that you've been neglecting for a while. If we didn't have spring cleaning, there are a lot of tasks that would continue to fall by the wayside until they becme bigger problems.
The chores we do during spring cleaning are usually ones that don't get done very frequently. If you don't do these at least once a year, you set your house up for worse problems down the line. Spring cleaning also helps us meet the warmer months with a fresh, clean living space so we don't have to continually worry about the things we never got done in the winter.
Techniques for Efficient Cleaning
There are some techniques that you can employ to make the process of spring cleaning much simpler. Some of these you may already do, but it's important to outline them so you can see that spring cleaning is all about efficiency. You can either spend a lot of time doing very little actual cleaning, or you can come at the task with the right mindset and get it done much faster.
Do the Worst Thing First
You don't want that one thing that you hate doing to hang over your head the entire time you're cleaning. Maybe it's tidying up the basement, maybe it's scrubbing the floors, or maybe it's washing the windows. Whatever the task is that you just dread doing, do that one first. You'll have the most motivation to get it done when you first start your spring cleaning, so use that burst of energy to get the worst thing out of the way.
Put Harder Chores Near the Top
When you make a list of everything you need to get done, you'll quickly figure out the tasks you'd much rather do over the ones that are more of a hassle. The more difficult chores often take the most time, so you don't want to leave them until the end. Try to get some of the more difficult tasks done earlier on when you still have energy. That way, you can save the easier stuff for when you're already getting tired of cleaning.
Remember Waiting Times
Another thing to consider when doing multiple cleaning tasks at once is that some of them will require some waiting around. Tasks like doing laundry require a lot of waiting before they're done. Start these tasks earlier in the day so that you can finish other things in the meantime.
Don't Do Everything at Once
You might be tempted to try and fit every single cleaning task into one day, but unless you're a real professional, this can be counterintuitive. Trying to cram all your cleaning into one day can lead to serious burnout. Being burnt out can cause you to give up on certain tasks that really do need to get done in a timely manner. Spread your spring cleaning over a few days or different weekends and you'll have a much easier time.
Cleaning Steps for Most Rooms
Each room is different, but here are some of the most essential spring cleaning steps your whole home might need:
Dust all ceiling fans and lights before you clean the rest of the room.
Clean and dust corners and ceilings first, making your way from high in the room to the lower parts.
Use disinfectant on things such as light switches, door handles, and cabinet knobs.
Go through any closets and remove items you no longer need or want. Remember to either sell or donate what you can, rather than throwing everything out.
Clean underneath furniture after you've cleaned the higher parts of the room first.
Cleaning Steps for the Kitchen
Empty cabinets and drawers of all their contents and clean inside them.
Clean and wash your oven's inside. This usually works better by hand rather than letting your oven self-clean.
Sweep and mop the floors.
Scrub any frequently used pots and pans to remove buildup.
Wash your appliances, especially the refrigerator, both inside and out. Also, throw out any old or expired food.
Cleaning Steps for the Living Room and Bedrooms
Remove items off the ground and reorganize where they go.
Wash linens, clothes, and blankets.
Dust and wash any surfaces that you can reach by hand with a microfiber cloth.
Vacuum and wash the floors, whether they're hardwood or carpet.
Vacuum the furniture of any dust and crumbs.
Cleaning Steps for the Bathroom
Deep clean at least your toilet and bathtub with a strong detergent.
Wipe down any mirrors or windows.
Clean the faucet, its handles, and the showerhead.
Sweep and mop the floors.
Clean the walls of the shower.
Vine Disposal understands the importance of spring cleaning, but we also understand how much of a hassle it can be. If you're doing a full cleanout of your home for your spring cleaning this year, you can check out our 40-yard dumpsters that can help you quickly and efficiently get rid of any junk buildup that's happened in your home over the winter. Over time, junk has a habit of seeming to spring up from out of nowhere. When it all gets to be too much to handle, give us a call and we'll be right there to help.