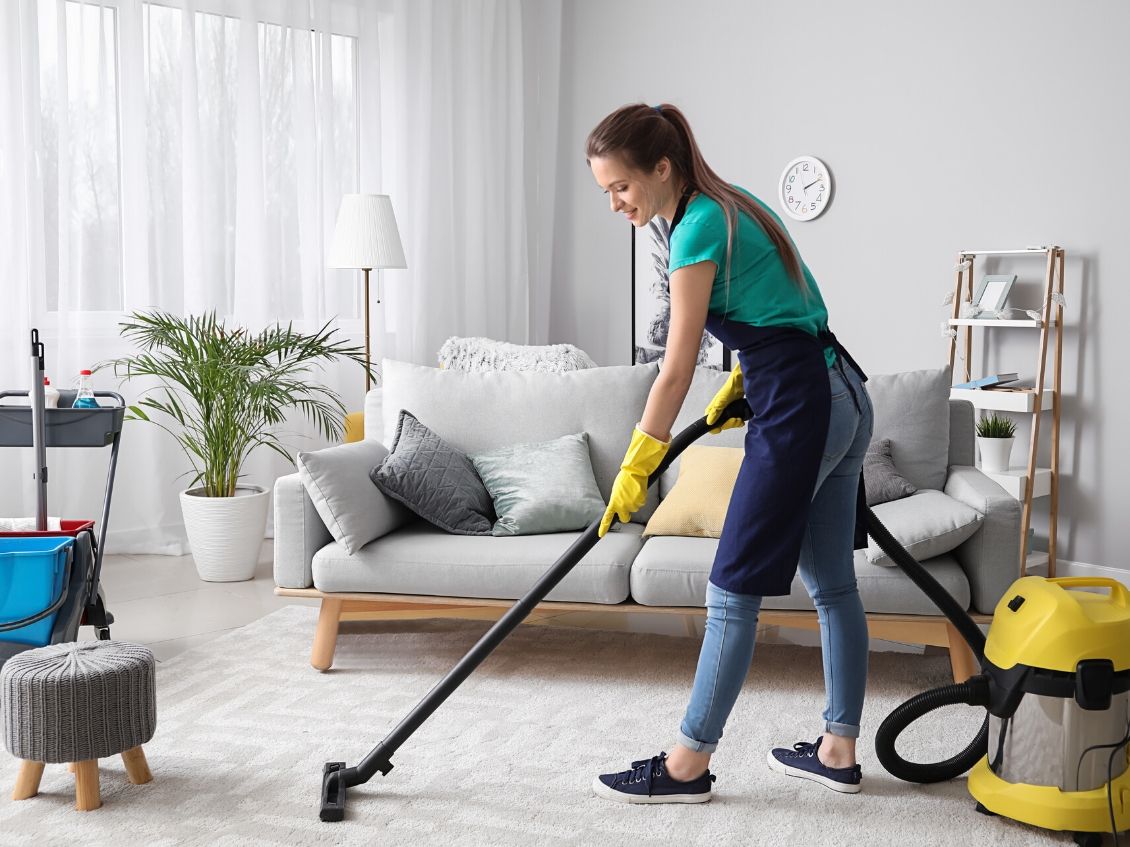 Your home is a reflection of yourself and your personality, right down to the tiniest knick-knacks. While these knick-knacks may add a cheerful element to your home's décor, they can also quickly clutter up the space. A house overcome by clutter is not only unattractive, but it can also cause its inhabitants to feel stressed and overwhelmed. Keep your house and your headspace clear and clean with these seven tips to declutter your home.
Start small
As you set forth to declutter your home, it can be easy to fall into the mindset of "everything must go." While this course of action may appear to yield the best results, it can actually impede your cleaning process and make decluttering your home even harder. Rather than attempting to remove all the clutter in one fell swoop, start small. Start by organizing and decluttering a small area of your home, such as a pantry or closet. Starting with a small project will help you get into a more routine habit of cleaning and organizing, and you will soon be able to tackle larger projects with ease. While working on one small project at a time may not achieve an immediately clean house, it will keep you from becoming too overwhelmed and will still yield impressive results in the long run.
Create an action plan
As you prepare to declutter your home, it's important to have an action plan. This will help you stay on track throughout the entire cleaning process and will keep you from becoming too overwhelmed by the scope of work. When creating an action plan, many people choose to work room by room. They will set their sights on cleaning and decluttering one room completely before moving onto the next room. Whereas cleaning all rooms simultaneously can lead to a half-done job and may cause you to overlook some things, focusing on one room at a time will ensure that every room is thoroughly cleaned and organized.
Set goals
When creating your action plan, it's also important to set goals. Carefully consider what you hope to accomplish by decluttering your home. For some people, the overarching goal in decluttering their home is to create a more comfortable, peaceful environment, as an overly cluttered house can lead to increased anxiety and stress. Other people may have more practical goals, such as downsizing their personal belongings in preparation for a move or creating more space in their home to accommodate their growing family. Whatever your motivations are for decluttering your home, clearly identifying and outlining them will help you maintain a clearer focus as you organize your home. It will also help you better envision how your home will look once you've finished organizing and decluttering it.
Establish a time frame
In addition to establishing your intrinsic motivations for cleaning your home, it's important to also establish a project time frame. This time frame can be as loose or as rigid as you want, but creating a general deadline for your organization project will help you stay on track throughout the entire process. Set one final deadline for when you want the entire project to be finished and establish several smaller benchmarks throughout the process. This will keep you from falling behind on your goals and becoming overwhelmed by the scope of work. By establishing smaller benchmarks throughout the process you will break up the workload and you'll be better able to see tangible results.
Create a system
When it comes time to finally sort and organize your belongings, it's good to have a system in place. There are several organization methods that are very popular and helpful for sorting trash from treasure as you declutter your home. The first strategy is the KonMari method. This strategy, established by Marie Kondo, encourages you to sort through each and every one of your belongings, keeping only the items that "spark joy." Once you've designated which items bring you joy and which don't, you're instructed to thank the items which don't bring you joy and then dispose of them. Another popular method is the four-box method. This method instructs you to label four different boxes as follows:
Trash: for items that are damaged or no longer have a use and can be recycled or thrown away
Give Away/Sell: for items that are still in good condition but that no longer serve a purpose in your own home and can be donated, sold, or given to friends or family
Storage: for items that may not have a current use in your home but may hold a sentimental value or may be used again in the future
Put Away: for items that are used regularly but are currently not in their correct location
Establishing a system for decluttering your home ensures that no stone goes unturned and helps you sort trash from treasure with ease and efficiency. Find a method that works best for you and try to stick with it throughout your project.
Say goodbye
Once you've organized all your items, it's time to say goodbye to those that didn't make the cut. Items still in good condition can be donated to a local charity or can be given to friends or family members. You can also sell these items at a garage sale or online marketplace, such as eBay or Facebook Marketplace. All other items that are broken or in poor condition should be disposed of in a dumpster. The scope of your organization process will greatly determine the size of the dumpster you should use. For most home decluttering projects, however, a smaller 15 cubic yard dumpster will do the trick perfectly.
Establish a routine
The final and perhaps most important tip to declutter your home is to establish a routine for the future. For many people, keeping their home clutter-free is much harder than the initial process of cleaning and organizing. Setting aside one day each month to tidy up will make it easier to maintain a clean house in the long run. Investing in multifunctional furniture and storage bins is also a great way to keep your home organized.