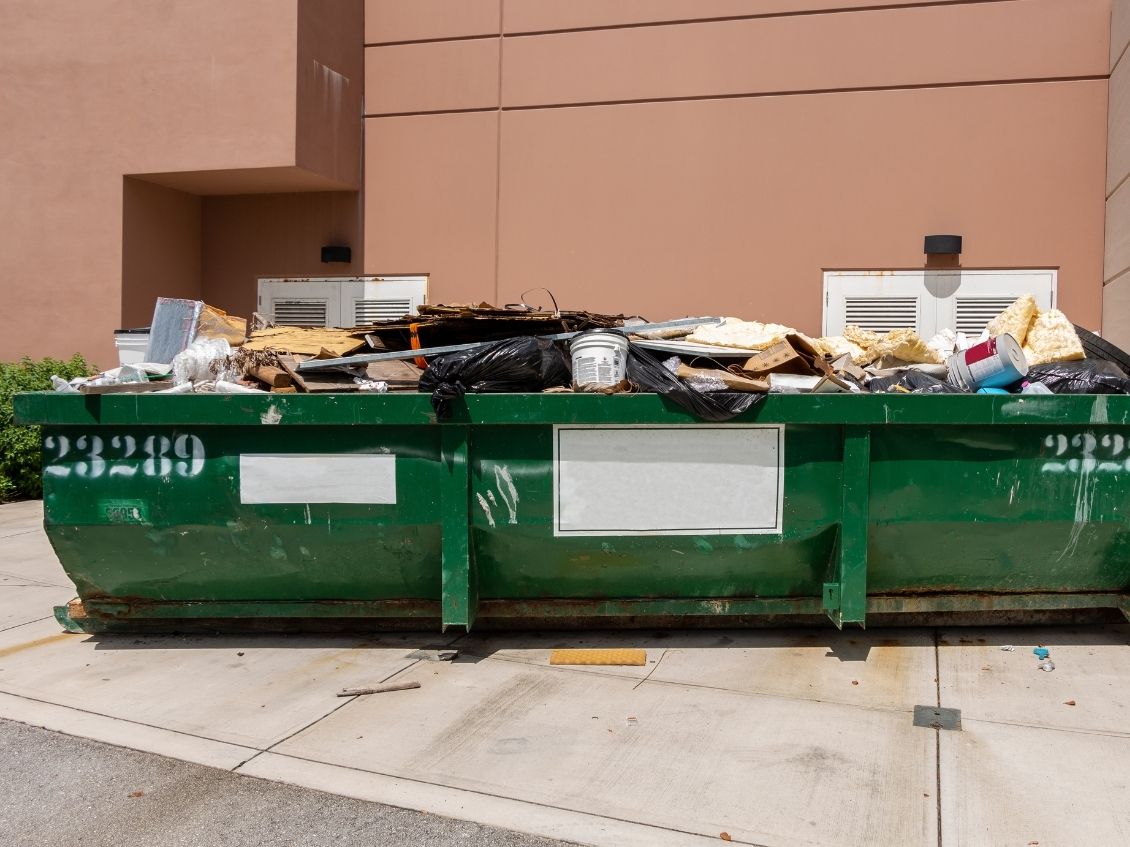 There are plenty of reasons to rent a dumpster when your business has a job that needs construction. Vine Disposal's rental dumpsters are exactly what you need when you know that your project will create a lot of debris and garbage. Whether you are expanding your area of operations or doing a quick remodel, the mess you will make is always going to be bigger than you think. In this article, we will go over some of the benefits of a dumpster rental for your business, so you can learn how useful they can be.
They Create a Safer Environment
One of the biggest benefits of having a rental dumpster at your site is the increase in safety. When you have a place to put all your waste products, you really cut down on debris being in the way or taking up valuable space somewhere else. A dumpster service for business is the perfect place to throw away anything sharp, heavy, or dangerous, so you don't have to worry about them anymore.
This is not just important for you and your workers, but also any passersby who might face harm. You owe it to everybody to be as safe and secure as possible when you are working on a big project for your business. Our roll-off dumpsters for businesses can help to ensure you keep safety in mind. Prevent any nasty injuries that may result from not properly dealing with your waste materials.
They Improve Overall Efficiency
If there is one thing you want to ensure when you are going into a big project, it is how to make the process go smoothly. Efficiency is key here; the more efficient we are, the faster we can complete the work. Rental dumpsters are a must-have for an efficient job site. Without a dumpster, you will need to decide where to place waste products, and how to discard them once the project is complete. That creates a lot of unnecessary work for you.
By renting from us, you eliminate that time-consuming work. We come to haul everything away once you are done, meaning you do not have to worry about the proper disposal methods for the waste. We know how important efficiency is to any business, and we seek to help clients improve their workflow.
We understand how busy you are. You probably do not have time to sift through all the trash generated from your work and figure out where everything needs to go. Some debris cannot go into regular garbage cans. Some debris is recyclable. Figuring out how to properly dispose of certain items can be a real headache if you have never done it before. All you have to do is throw your debris into the dumpster and let us take care of the rest when we come and pick it up. It is one of the best benefits of a dumpster rental for your business remodel.
They Can Reduce Overall Costs
As we said above, many waste products must be discarded in the proper way. Doing this yourself will cost you a lot of extra time where you could be doing something more productive. This extra time will cost your business money in the long run. Do not waste your time and money when there is a better solution to your problems only a phone call away.
Not only can rental dumpsters help with costs in general, but they also help reduce the possible costs of litigation and lawsuits. If you are disposing of trash improperly, or if someone gets hurt on the job or passing by because of improper trash placement, you could potentially find yourself with a very expensive legal problem on your hands. Save yourself the headache and the money associated with it by hiring Vine Disposal to help you out. The last thing you need to deal with is an expensive lawsuit.
They Reduce Your Carbon Footprint
If you are an environmentally friendly company, you owe it to yourself to rent a dumpster when you have the chance. All of the trash you create will need to be hauled off somewhere. Our roll-off trucks allow for much more waste to be taken away in a single trip. This helps to reduce CO2 emissions for something that you might have had to do in multiple trips. If you want to avoid all of that tedious back and forth, rent a dumpster from Vine Disposal.
Also, leaving all of your trash and debris strewn about is harmful to the environment. If you are working with any hazardous materials, you run the risk of harming the surrounding ecosystem and even affecting people that live or work nearby. Try to remain environmentally friendly, and use a dumpster for your next big project.
They Give You Peace of Mind
We have talked a lot about the problems that you can avoid by renting one of our dumpsters, but one thing we have not mentioned is how they help you as the business owner or manager. A large project that requires one of our dumpsters is a stressful situation, no matter how prepared you are. Give yourself some peace of mind and take a little bit of the edge off by renting a dumpster for your project.
You should not have to worry about what to do with your debris. Having a dumpster rental for your business helps you ensure that your workers and employees are safe. Seeing a 40 cubic yard dumpsters on your job site lets you we will take care of any of your waste needs. Do not let yourself spiral with anxiety or worry about your big project.
Vine Disposal is dedicated to making your life and your job easier. We want you to have access to the services you need to keep your job site safe, efficient, and clean. If your business is going to start a new project soon, give us a call to figure out your dumpster options. We will be glad to help you make sure your job goes off without a hitch.