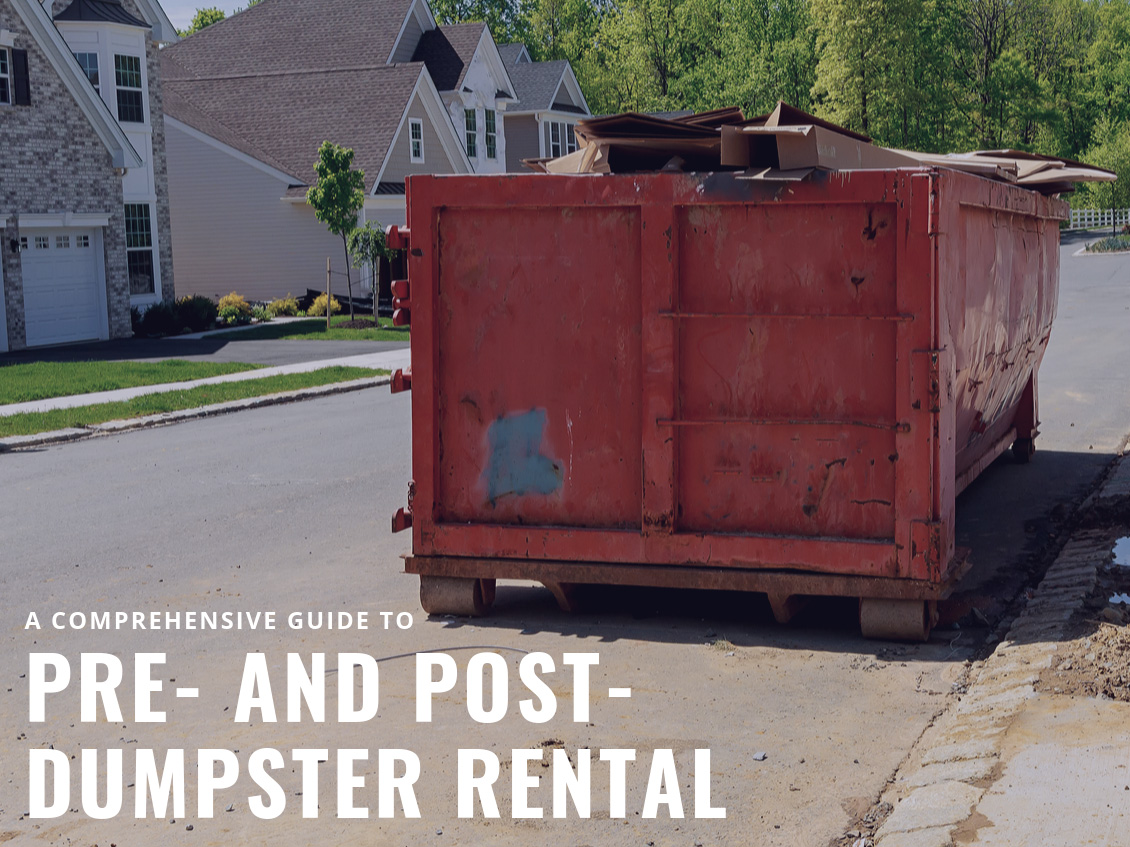 Planning a renovation project can be an arduous task that requires a lot of preparation. Organizing the moving parts for your renovation may be taxing but the delivery and removal of your rental dumpster doesn't have to be. This comprehensive guide to pre- and post-dumpster rental practices will provide you with some helpful tips and tricks that will make your entire renovation process run more smoothly.
Before
Settle on a size
Preparation is an important part of any renovation project. As you begin to plan the budget and time frame for your renovation, it's also important to consider what size dumpster will best suit the project. Depending on the scope of your renovation project and the materials used, you may want to opt for a larger dumpster. The intended location for your dumpster will also affect the correct dumpster size for the project. Carefully considering the best size dumpster for your renovation project will help your project run smoothly and remain on budget.
Choose a good location
Once you've decided on the proper dumpster size you'll need to consider the best location for it. Regardless of size, the best place for a dumpster is a location with level ground, ideally with pavement or asphalt. Depending on the size of your dumpster, however, this may not always be possible. In order to ensure the dumpster causes no damage and can be delivered and removed easily, steer clear of steep hills and soft surfaces. Dumpsters positioned on hills could move or shift slightly during the disposal process and may cause harm to yourself or your property. Additionally, positioning the dumpster on a soft surface, such as sand or grass, could cause the dumpster to sink and it may get stuck during the removal process. When choosing the location for your dumpster you will also need to confirm whether or not your city requires building permits. Some cities, particularly those located in an urban setting, will require a building permit to place a dumpster on your property or on a public street. Always be sure to consult your local government officials regarding permit requirements, as each state, city, and county has different regulations.
Prepare the delivery space
After deciding on the best location for your rental dumpster, clean the area and clearly mark it for delivery. Remove any debris from the area and park cars elsewhere for the duration of the project. Though there is little chance of the dumpster cracking or scratching your driveway, it's always better to be safe than sorry. Plywood boards can serve as a barrier between the dumpster and your driveway, further reducing the risk of driveway damage.
Stage items if possible
It may seem a bit out of order but preparing items for disposal before the arrival of your rental dumpster can help streamline the entire renovation process. Preparing and staging items for disposal prior to the delivery of your rental dumpster will ensure that your renovation project stays on schedule. This small step will also ensure that you do not exceed the rental period for your dumpster and will save you from having to pay any additional fees. Staging items will also help you separate the items which can be disposed of in a dumpster from items which cannot.
During
Know what can and can't go in the dumpster
As you go about your renovation project bear in mind the objects which are not permitted for disposal in a dumpster. While most garbage items and building materials are acceptable for dumpster disposal, there are a few exceptions. As a general guideline, any items which could be hazardous to the environment or people. Paints, adhesives, car batteries, and other materials that may leak hazardous chemicals into the environment. Some larger items, such as refrigerators and water tanks, are also not permitted for dumpster disposal and may require special removal services. For a more complete list of the items which can and cannot be disposed of in dumpster, check out our helpful guide. You may also choose to separate recyclables from other trash items to further ensure that everything is disposed of properly.
Be conscious of dumpster limitations
Be sure to carefully read the terms and conditions for your rental dumpster, as they may vary slightly depending on the size of the dumpster. The size of the dumpster will greatly determine the amount of debris it can hold and the maximum weight limit for the debris. Exceeding the weight limit for your dumpster often results in an additional fee. You also want to be careful not to pack the dumpster too full. At least 12 inches should be left between the trash and the top of the dumpster. This ensures the removal of the dumpster can take place as efficiently and safely as possible.
After
Schedule final pickup
As your renovation project draws to a close it's time to schedule the final pickup for your rental dumpster. The rental period may vary depending on the type of dumpster used so be sure to contact your rental company to discuss the allotted time frame. If you are planning to keep the dumpster for longer than the original rental period this should also be communicated to the rental company. Additionally, if you will not be needing the dumpster for the entirety of the rental period, you will need to contact the rental company to schedule an earlier pick up date.
Remove obstructions
Once you have scheduled the final pickup for your dumpster it's time to begin tidying up your construction site. For an efficient dumpster removal process, be sure to remove any obstructions near the site of the dumpster. Try to create at least a few feet of clearance on all sides of the dumpster. This will ensure that the removal truck has plenty of room to access the dumpster. This will also reduce the risk of property damage during the removal process.
Organize any special disposals
As we've stated, there may be a few items that are not permitted for disposal in your rental dumpster. Large items may require additional disposal services. Refrigerators can be disposed of by an appliance retailers, as can some water and fuel tanks. Car batteries, tires, and other car parts can be disposed of at a local mechanic or auto parts store. Some large items, however, can be disposed of in a dumpster. Mattresses, for instance, are acceptable for disposal in a dumpster but may require an additional charge.
For Atlanta dumpster rentals or for more information regarding pre- and post-dumpster rental practices, contact our team at Vine Disposal.