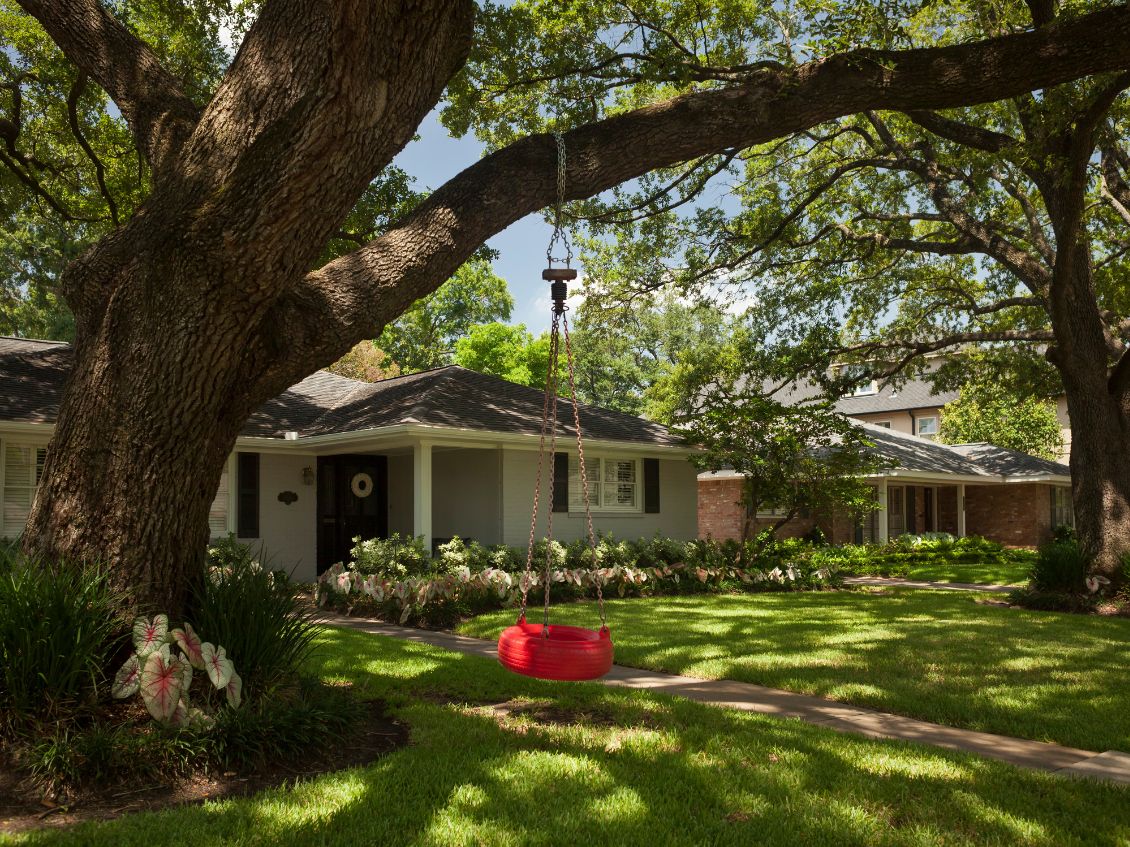 One man's trash is another man's treasure. It's easy to look at something that's no longer useful and throw it out. But just because its original function is out of commission doesn't make the item pointless. Waste not, want not, after all! No truer words were spoken, and this phrase definitely applies to old tires. Check out these eight genius ways to repurpose old car tires.
Good Old Fashion Tire Swing
Nothing beats a good old fashion tire swing, especially with the warm weather approaching. A swing is one of the most relaxing places to be in the summertime. There's a reason why this piece of outdoor décor appears in so many coming-of-age summer films—it's a classic.
Kids of all ages want to let the movement of the swing take them in whatever direction. You don't need to go to the park or purchase some elaborate swing set to put a smile on your child's face. An old car tire and sturdy rope will do the trick.
Make sure the branch you connect the rope to is reliable, strong, and healthy. Look for rot or decay to ensure the tree or branch is not on its way out before tying a tire swing to it.
Raised Garden Bed
If you're looking to get your flowers off the ground, you should know that an old car tire has the perfect structure and design for a raised garden bed. All you need to do is set down the tire flat in your yard or garden, fill it with potting soil, and add your plants.
If you have plants with deep roots, you might want to stack two tires on top of each other. Or, if you want to save yourself from developing back problems, stack the tires to create a raised bed at the height you need. Make sure you're placing your plants at the correct height for their growth requirements.
If you notice the growth pattern is off or spot some discoloration, you may need to raise or lower the level of the tire planter. Remember to pack the tire with soil fully to cover the roots.
A Classic Foot Rest
Have you seen the prices of ottomans? It's outrageous. Ottomans are great additions to couches and chairs, but they don't need to cost an arm and leg. Here's the good news: you don't need to pay those obscene prices. The purpose of a DIY project is to get the same results but at a lower price.
You can build your own ottoman with an old car tire, rope, glue gun, and round top of some sort. The top needs to be pretty sturdy because people plan to rest their feet on the surface. Once you choose the right material and size, place the board on top of the tire. Ensure that it is wide enough not to fall through.
Next, start adding the rope around the tire with the glue gun until the rope covers the entire structure. Watch your fingers to avoid hot glue burns. Consider adding a nice glaze finish to the rope to spruce it up. Once everything dries, you'll have an indoor or outdoor ottoman at a steal.
A Home for the Hose
The garden hose belongs either outside or in the garage. However, in either location, the hose can get pretty unrulily. No matter how much you roll it up around your arms and shoulders, it still manages to either unravel or tangle.
Trying to detangle the hose can be frustrating and potentially ruin the product. Let's put an end to this torture by creating a home for the hose with an old car tire. All you need to do is place the tire on the ground, roll up the hose, and place it inside!
The tire will help keep the shape of the hose. When it comes time to unravel it, you shouldn't encounter any problems.
A Sandbox
Who brings sand to the beach? You can—well, you can bring it to your backyard. Instead of getting out a hammer, nails, and several pieces of wood to create a sandbox for the rugrats, all you need is a tire. Eventually, they will outgrow this area to play, but until then, you can all enjoy the moment.
Place the tire down on the ground and grab your bag of sand. Tip it over and start to release the contents inside the tire. That's only the first step. At this point, your kids might not see more than a tire with sand inside it.
Get a beach umbrella, a couple of beach toys, and maybe an ocean background to fully capture their imaginations.
Tire Teeter-Totters
Tire teeter-totters—try saying that five times fast. For tire teeter totters, you'll only need half of the tire itself.
Cut a large tire in half and place a long plank of wood on top. Get a handle for both ends of the wood. Make sure you sand down the wood so that no one gets a splinter when they sit down. Consider painting the wood and the tire to make it more aesthetically pleasing for you and the kids.
Secure the wood to the tire. You'll want to level the structure as much as possible so that it bounces correctly.
An Active Obstacle Course
All that pent-up energy has to come out somewhere. For kids, there's no better place than a backyard obstacle course. The old tires can feature in several areas of the overall course design. Choose to use them as any of the following:
Ladder steps
Slip-and-slide tubes
Creative circles
The options could go on. All you need to do is think about it for a little bit. With time, you'll come up with a great challenge for everyone to enjoy.
A Workout Regime
Speaking of challenges, you can use old car tires as part of an effective new workout regime. Who needs a gym when you have tires in the back? Try doing a few high knees and vertical jumps in between the tires. Trust us, you'll feel the burn, and your body will show the results.
Whether you turn the space into a gym, playground, or garden, you might want to transform your backyard back to its original contents one day. When that time comes, look into getting yourself a 40-yard roll-off dumpster rental to avoid placing the tires on the curb or in your personal trash can.
If you think 40 yards might be too big, we've got plenty of other sizes here at Vine Disposal.
Finding new ways to repurpose old car tires is just the tip of the iceberg when it comes to our home project tips. For more information, visit our website.