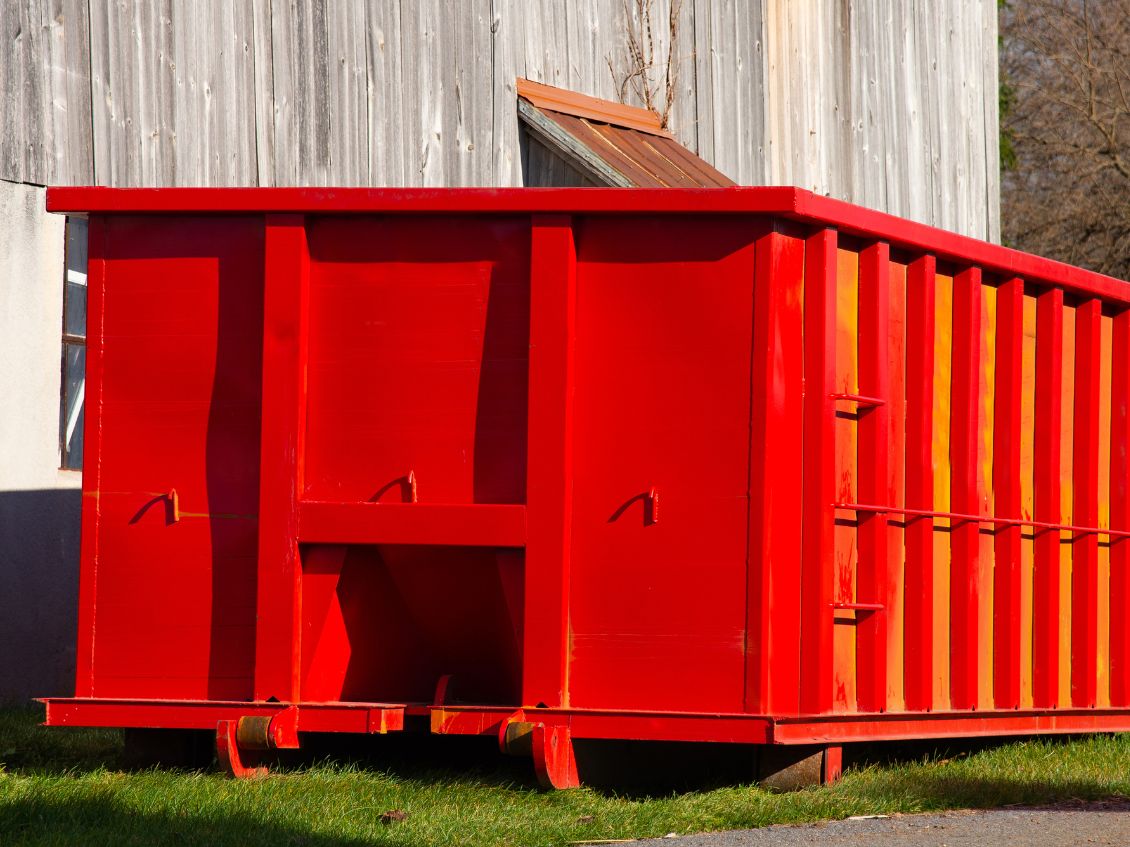 Dumpster rentals sound relatively simple because they were designed that way. The process is meant to be user-friendly. Companies should not look for ways to confuse their customers because they'll never get business with a strategy like that. However, even though it's straightforward for the most part, there are still some things worth mentioning. Here's what you can expect in the dumpster rental process.
Commercial vs. Roll-Off Dumpster
If you're not familiar with the process, you might hear companies use the terms "commercial dumpsters" and "roll-off dumpsters" interchangeably. Regardless of their language, it's important to know the two are not the same, as they both imply something different.
Commercial dumpsters refer to the type of covered dumpsters you'll see outside of restaurants, hotels, or other occupied commercial properties. Those dumpsters belong to that establishment for permanent residence. Roll-off dumpsters don't share the same traits.
Roll-off dumpsters will eventually leave your property and return to their owners. Companies rent them out to you for a limited time. Renters will use these dumpsters for any large-scale project they have which requires disposing of items in large quantities. They're for temporary projects like renovations or cleanouts.
There's a process to getting them and sending them back, which we will get into. Because too many use these terms interchangeably, you need to ask your provider for a photo of their dumpsters before renting them. If you see one with a lid, you know you're in the wrong place.
Contact Process
Once you've looked over your list of options with companies, it's time to choose one. It would be ideal to have a phone call or an exchange of emails with the different companies to compare rates, quotes, and qualifications. After doing a comparison and choosing the best one, call the company to make the arrangements.
You'll set up a time and location and agree on a time that works for both parties. A delivery person will come at the scheduled and place the dumpster at the desired spot. It's all pretty straightforward from there. You can then proceed to fill the dumpster and keep it in your possession for the allotted amount of time.
Details about the pickup process should have been covered in the beginning, but you can always contact them again for more clarification. The time for the pickup date was probably not established in the beginning, so you'll need to discuss it toward the end of the rental agreement.
Avoid Brokers
Whatever you do, avoid brokers at all costs. Too many first-time renters make the mistake of working with a dumpster broker because they think they're saving money, but they're not. Brokers charge a fee for their services, so those discounted rates they show you in the beginning don't even apply to the final total.
Aside from brokers being overpriced, brokers will also make things difficult for you because you'll never get a hold of them. You're not privy to where the brokers got their dumpsters delivered from. The containers could have come from a different state, and that makes the delivery and pick-up process more difficult for you.
They won't show up at the time you agreed upon, and they won't be able to answer any questions you have regarding the container. If you run into problems and try to get in touch with them, you'll get directed to an automated message and robotic customer service representative. It's better to go with a company in your area that you can trust and depend on, like our team at Vine Disposal.
Weight Limits
The weight limits for the dumpsters are imperative to know. Don't ignore the weight limits and precautions companies tell you. For every container, there is a maximum tonnage you need to adhere to avoid issues down the line.
If you go over the weight limit for any of the containers, you'll be subjected to overage fees. More importantly, it's a safety hazard to go over the weight limit. When it comes time for them to collect and unload the dumpster, they need to place it on a truck and travel to a landfill location.
Traveling on the highway or any road with a container exceeding the weight limit is dangerous to the truck and other drivers on the road. It's hard to gauge to weight in tons for certain items, but companies can break down the measurements for you to get your best guestimate. As a general rule of thumb, never let the container get full past the top.
Loading Options
Aside from ensuring you don't exceed the limit, there are other ways to ensure you don't deal with extra and unnecessary fees. If you choose to use the dumpster to load everything from your project in there, that's fine. However, you can also clean load your dumpster.
Cleaning loading means only disposing of one type of material inside the container. For example, if you start off with lumber, you stick with lumber until the project is complete. Or, if you only want to place debris and drywall inside, that's another option you have.
When you clean load a dumpster, you remove the task of companies needing to travel to a landfill to dispose of the items. Now they don't have to deal with a landfill charge, and they can recycle the materials. Not only is this a more affordable option, but it's also better for the environment.
Proper Sizing
Choosing the proper size for your project might be hard if you've never done this before. You don't want to go too small and deal with overage fees. But at the same time, you don't want to go too big and spend more money than necessary.
Talk with your provider and discuss the type of project you have. They should be able to offer some insight into the best option to choose. Finding the correct size is even more reason to work directly with a company and not resort to a broker.
Brokers would not be able to tell you what a 12-yard roll-off dumpster would accommodate and how it would be beneficial for your small home renovation project. But we can help you with that—and so much more!
We can tell you what to expect when it comes to the dumpster rental process and so much more. For more information, visit our website.