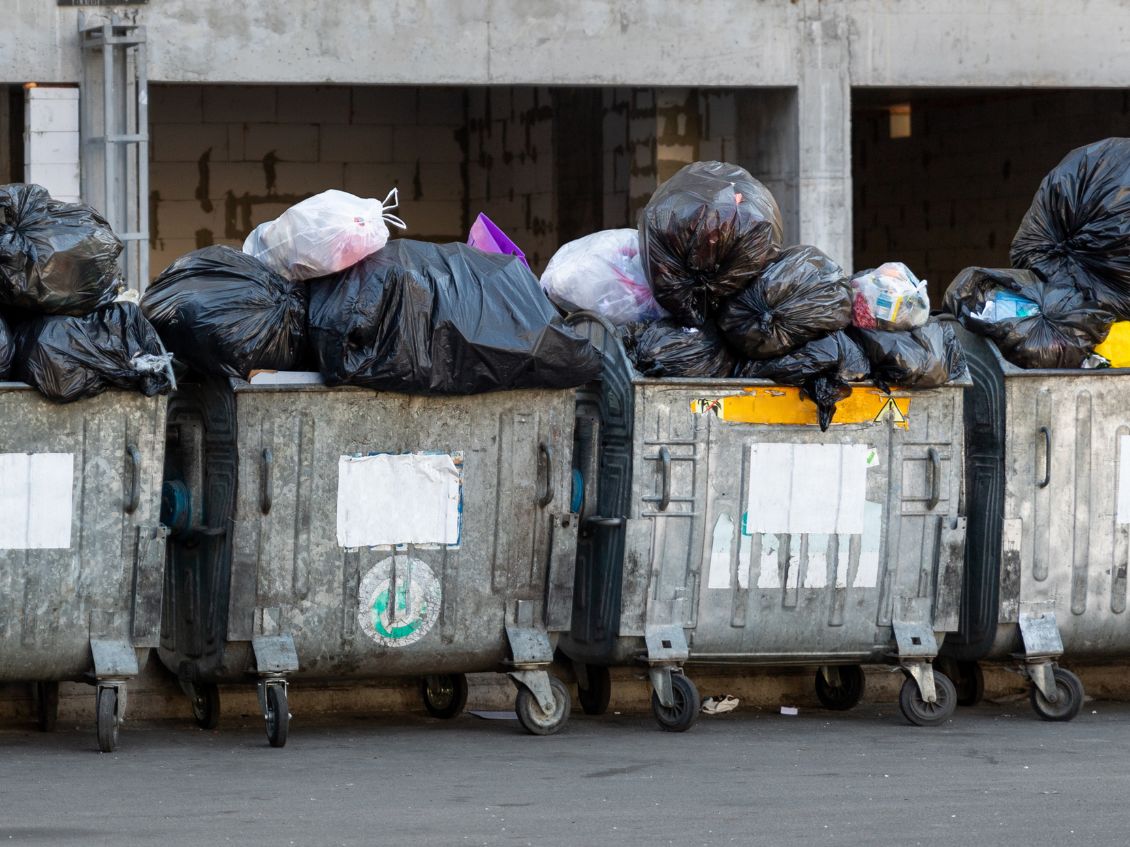 Attending a live sporting event or conce\rt in a stadium is an exhilarating experience. The roar of the crowd, the shared connection between fans, and the anticipation of what happens next make these venues unique.
We get to experience these feelings largely because of the workers who handle the logistics of large events. Stadiums typically have hundreds of employees carrying out essential functions such as waste management.
However, getting rid of the trash and waste from a sporting event or concert is a massive undertaking. Without a fleet of dumpsters surrounding the stadium, sanitation workers would have to pick up obscene amounts of trash left behind by patrons. Read through our top 13 reasons every stadium needs a fleet of dumpsters to help with waste management.
High Foot Traffic
Most major stadiums receive hundreds of thousands of visitors every month. Patrons generate an immense amount of trash, from food wrappers to program booklets. Stadiums must handle large amounts of trash and litter scattered throughout the venue, which is much easier with a fleet of dumpsters.
Many Entry Points
Stadiums often have multiple entry and exit points. This expanded layout necessitates the placement of dumpsters at each entry point and exit way. Having dumpsters throughout the stadium will make it easier for people to dispose of their waste properly and not leave it scattered throughout the venue.
Cost-Effectiveness
While the upfront cost of renting dumpsters may seem substantial, stadiums could save money in the long run. The fines and penalties associated with improper waste disposal and the expenses of potential pest control or cleanup operations can outweigh the rental costs.
Versatility in Size and Placement
One of the 13 reasons every stadium needs a fleet of dumpsters is the versatility they offer. Stadiums can choose the appropriate number of dumpsters depending on the event's size or the expected crowd. Stadium workers can strategically place the dumpsters for maximum efficiency without obstructing movement or views.
Enhances Fan Experience
Nobody wants to wade through heaps of trash while trying to find their seat or stand in long concession lines surrounded by litter. By having a fleet of dumpsters surrounding the venue, the stadium can help ensure a more pleasant experience for its patrons, leading to potential repeat visits and positive word-of-mouth.
Helps the Sanitation Crew
Imagine the Herculean task faced by the sanitation crew post-event! Having dumpsters readily available makes their work easier to manage. The sanitation crew can systematically dispose of trash without transporting it long distances from the stadium.
Organization of Materials
Not all waste is equal—some are recyclable, some are compostable, and some need special handling. With the increasing emphasis on sustainability and eco-friendly practices, many stadiums have made public commitments to become greener. Having separate dumpsters for recyclables makes it easier for the stadium to contribute to local recycling initiatives.
Legal Protection
By providing a designated area for waste disposal, dumpsters help prevent potential trip hazards and unsanitary conditions that can lead to injuries or health concerns for patrons. Stadiums can avoid negligence claims and legal prosecution by mitigating risks and ensuring a safe and enjoyable experience for all attendees.
Increased Productivity
Time is of the essence when cleaning up after a big event. With a fleet of dumpsters strategically placed throughout the venue, cleaning crews can work faster and more efficiently, ensuring the stadium is ready for its next event in no time.
Improves Stadium Appearance
There is nothing less appealing than a stadium full of trash. Having dumpsters on hand makes it easier for people to dispose of trash promptly and maintain the stadium's aesthetic appeal.
Supports Local Economy
By renting dumpsters, stadiums can support local businesses, positively impacting the community's economy. The support can help strengthen the bond between the stadium and the surrounding community and even lead to collaborative efforts for community betterment.
Boosts Reputation
The public often views stadiums that prioritize waste management more favorably. By showcasing their commitment to cleanliness and environmental responsibility, the stadium can boost its reputation, potentially resulting in increased event bookings and partnerships.
Pest Deterrent
Piles of garbage are an open invitation for pests. By containing trash in dumpsters, stadiums can help minimize the presence of rodents and other pests and create a cleaner and safer environment.
Waste Generated by Stadium Upgrades
With technological advancements and the need for modern amenities, stadiums frequently undergo upgrades. These upgrades can result in considerable construction waste. Construction crews often need a fleet of commercial dumpsters to handle the trash and debris collected during these upgrades.
Waste Generated by Stadium Renovations
Stadium renovations produce a sizable amount of waste, whether it is old seats, structural components, or outdated fixtures. Properly sized dumpsters ensure stadium staff can efficiently and safely discard waste materials.
Waste Generated by Stadium Vendors
Vendors are vital to the stadium experience, offering everything from food and beverages to memorabilia. However, they also generate considerable waste, from cardboard boxes and packaging to food waste. By providing these vendors with access to dumpsters, stadiums can help ensure a cleaner vendor area.
Considering the need for waste management during upgrades, renovations, and even daily operations, it is evident that every stadium needs a fleet of dumpsters. If you are a stadium owner or manager, considering local dumpster rental in Atlanta is not just a good idea—it's a necessity.
Keep Your Stadium Clean and Safe With Dumpster Rental Services
Given their size, purpose, and number of patrons, stadiums have unique waste management needs. Ensuring a stadium's cleanliness, safety, and enjoyable atmosphere becomes more manageable with a fleet of dumpsters at your disposal. Make sure your venue stays on top of its game by prioritizing waste management today!
At Vine Disposal, we provide stadium owners and managers with professional dumpster rental services. We offer a range of dumpster containers to meet your professional requirements, from large dumpsters suitable for renovations to smaller dumpsters for standard trash collection.
Contact us today by phone or email to discuss your waste management needs with our team. We look forward to discussing the details of your dumpster rental and giving you exceptional service at a competitive rate!