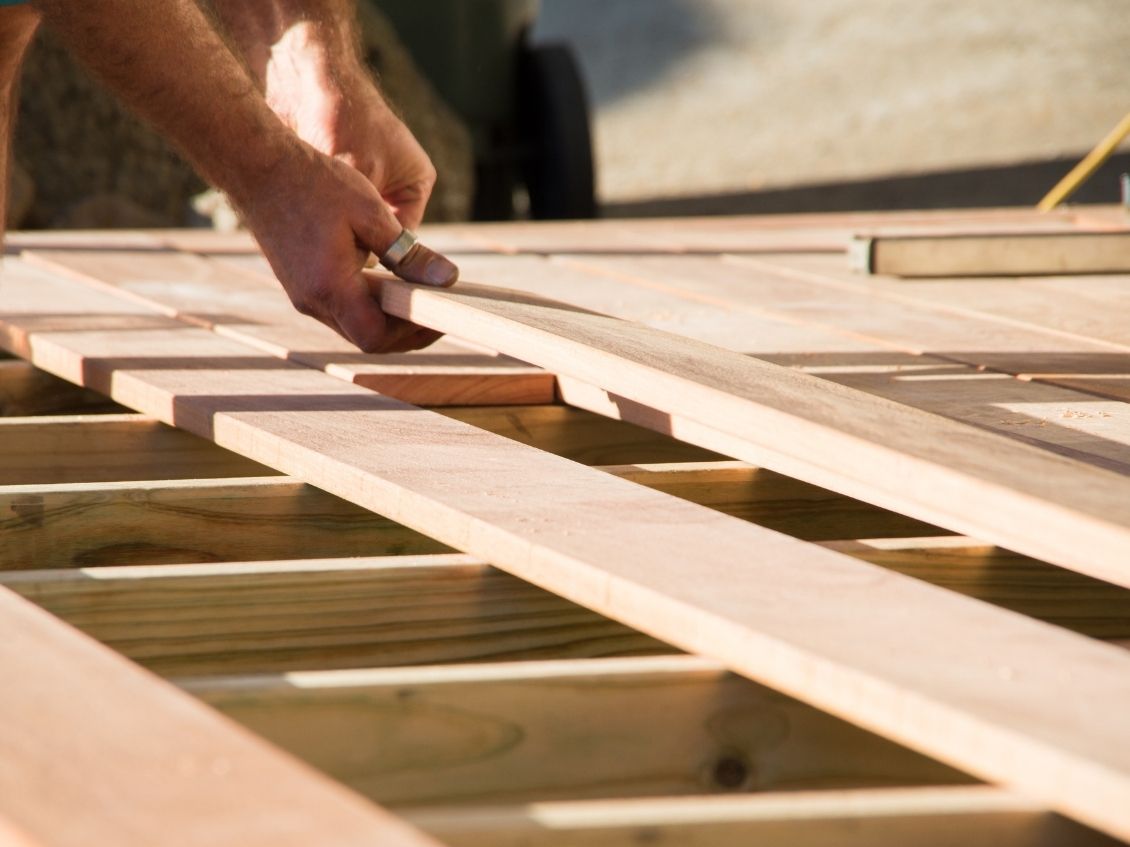 We all deserve our own sanctuary—and so do you. From figuring out the best area to build in or remodel, the outdoor deck is the best option. You get a place to enjoy the weather and envision yourself on vacation while only being a few feet away from your backdoor. You can imagine it; now, learn more about what to know when planning a deck renovation.
Deck Types
A deck's a great asset to have, especially when you're looking to make an old rundown area look brand new again. However, before you get started, you need to know the best deck type for you and your family. Here are four of the most common decks to pick from.
Freestanding
Also called a floating or ground-level, the freestanding deck is a style that hangs on the side of the home, usually a few inches to a few feet away from the property. The detached deck delivers privacy, especially when you're hosting parties with friends.
This deck style doesn't require a building permit if it doesn't go above a foot, cover the basement, or a lower part of a building. In other words, the freestanding deck should not block off any entryways that lead to lower levels.
Attached
The attached is a more familiar design than the others. Typically, they're taller, and they come with attached handrails on various sides of the deck to allow for traffic to flow on different sides. Similar to the freestanding deck, this one hugs closer to the house.
The attached floorplan is slightly complex, so hiring a contractor who can help install the deck is recommended.
Wraparound
A lot like the wraparound porch many Southern-style homes have, the wraparound deck looks more like a room because of the ability to create more uneven spaces. The unevenness almost mocks the layout of an indoor space. Also, a wraparound deck is elevated and could even be considered a balcony.
Here are the benefits of having a wraparound deck:
Extended living space
Better air circulation
Plenty of sun and shade
Multi-Tier
This type isn't as common, but you can add multiple deck levels onto the home if you have a large, scaled property. A multi-tiered deck is perfect for hosting events and allowing everyone to spread out evenly.
The multi-tier deck is favored for sloped, hilly areas or rocky terrain. Here are the benefits of a multi-tiered deck:
More space
Room for creating different spaces
Great for navigating sloped terrains
How To Build a Deck
It's essential to learn about the building process before you begin. You might need a building permit for some remodels, but this is something you can learn about by going to city hall and asking a building inspector.
Typically, the average renovation timeframe for a deck is anywhere from one to three weeks. So, when you are building, make sure you have an idea of the size, and your contractor can determine how long the redo will take.
What To Expect During Your Deck Construction
The first thing to do is meet with your builder and plan out your timeline, budget, and the tools you'll need. It's highly encouraged to bring in your images and ideas of what you'd like so that the builder can recommend the best design choices for you.
Once your worker finishes and submits the plans, they get the proper permits needed for the job. Afterward, your builder gets the required equipment to start building. During that time, you can reach out to other services on organizing and tossing out your demolition debris.
Common Materials Used
Many builders use different things to build decks with, such as composites and hardwood materials. Since you're renovating, your contractor can provide a list of appropriate materials to use to replace your current one. They also explain the maintenance that's required, such as placing a finisher on and sweeping off debris.
Composites
A composite is recycled materials made into sustainable wood. Typically, the materials used are recycled wood fibers and plastics. The good thing about this type is that it never needs sealing or staining, but the color does fade over time from sun exposure.
The best place to build with composite is in a shady area. When maintaining the wood, the recommended thing to do is clear things off, like moss, mildew, and mold.
Fiberglass
As a material that's grown in popularity over the years, fiberglass is slip-resistant and doesn't rust. It's a preferred material in many ways, but you still need to maintain it, such as staining and sealing the material.
Hardwood
Hardwood, like Ipe and tigerwood, is highly favorable to many when designing decks. The material's tough and can outlast any other material for many years. However, you still need to maintain this wood as it is expensive to replace.
Pressure-Treated Wood
Pressure-treated wood is an excellent choice if you're looking to save money on material. However, there are some downsides, such as splintering and not walking on it with bare feet. While considering this material, ensure you can keep up with this material's maintenance.
The Best Time To Build a Deck
Depending on your climate, you might get away with building all year. However, it severely delays the process in other environments that experience freezing temperatures. Those in climates that encounter all four seasons benefit most from building anywhere between the late spring and early fall.
The Usual Deck Building Cost
Depending on your property and what you want, the price varies for everyone. If you're looking to only do the deck with no added features, you can look at spending somewhere around $14,000 or more. For others with added amenities, you can roughly pay about $60,000.
Keep your options limited if you don't have enough in your budget to spend. It's always best to stay with a comfortable budget than do more if you can't afford the extra things.
How To Dispose of Your Deck Debris
When renovating, you're going to need to dispose of your deck debris. Many renovators prefer hauling junk themselves, but it's a lot easier to utilize a 40-yard dumpster rental when you really need to get the junk organized and out fast.
Renting a dumpster differs from person to person, so not everyone will have the same size to work with when renovating the deck. As you wrap up the guide on what to know when planning a deck renovation, you can now go in with your contractor and design the best deck renovation that works for you and your budget.
With Vine Disposal, you can expect to receive a dumpster that can fit all of your deck remodel waste. If you're looking for information on leasing a dumpster for your future deck remodel, contact us here for a quote.