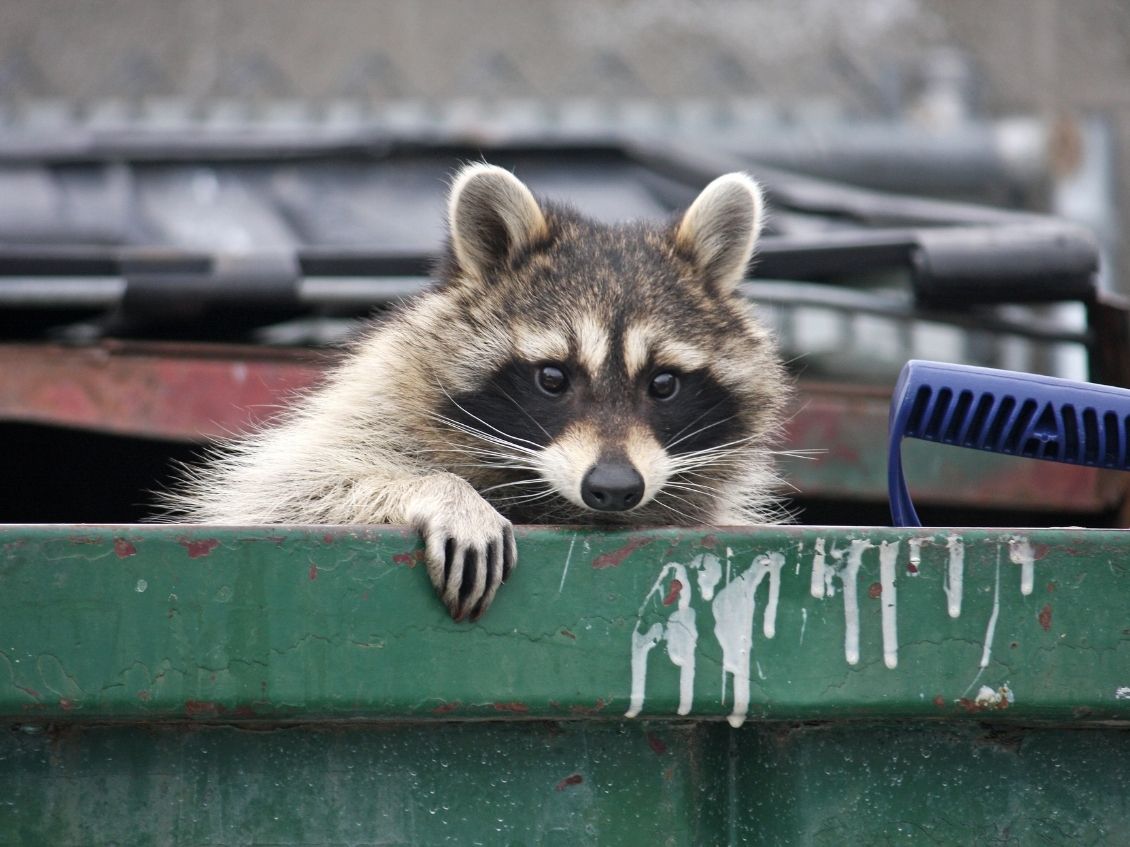 Raccoons, squirrels, and the occasional armadillo—not again! These adorable creatures shouldn't eat our garbage, especially when the dumpster's a rental. If you don't want to see a raccoon feasting on your trash, then follow our tips for deterring pests from getting into your dumpster rental.
Close the Dumpster
We don't like the sight of garbage, and we also don't want wildlife lingering around waiting for us to leave the dumpster door open.
So keep the can door closed or covered to help contain the waste better. Not only will this deter our furry friends, but it'll prevent bugs from going near the debris.
Don't Throw Food Into the Dumpster
You should also keep food and crumbs away from your 10-yard roll-off dumpster rental. It's especially pivotal to avoid having food near it, though. The primary culprit attracted to food, other than rats, are raccoons.
Although they're adorable, they can continuously come to your dumpster when they know they can find food there, which is a nuisance. So the best way to avoid attracting raccoons is to toss your food into a regular garbage can with a garbage bag.
Leave the Dumpster on Concrete
The thing about grass is that it's soft, making it easy for pests to slip underneath dumpsters. In other words, pests enjoy nesting beneath dumpsters or other objects in grassy fields.
However, animals won't have a way to build a nest when you keep the dumpster on concrete. The concrete ground is hard, and there won't be resources nearby with which to create a nest. So keep your dumpster rental on the concrete to avoid unwanted visitors.
Use a Repellent
We don't want to harm raccoons or other animals and insects; we simply want them to stay away from an area they don't belong. So don't douse an entire load when using a repellent. Only spray sparingly.
When concocting a repellent mixture, use ammonia and water. Ammonia can keep flies and other insects at bay. Also, you can use a repellent from a local hardware store to rid the area of raccoons, squirrels, or bears.
If you find yourself with an unwanted guest, contact an animal control service to remove it safely. Also, if you have bugs, remove everything from the dumpster and wash it to avoid fines.
As you follow our tips for deterring pests from getting into your dumpster, you should get in touch with Vine Disposal for the best dumpster rentals on this side of Atlanta. We offer our customers various sizes of dumpsters to handle any project they come across.
Vine Disposal offers many dumpsters, including 10-yard roll-off dumpsters that work well for home remodels, construction projects, and big moves. For more information on our rental services, contact us today.