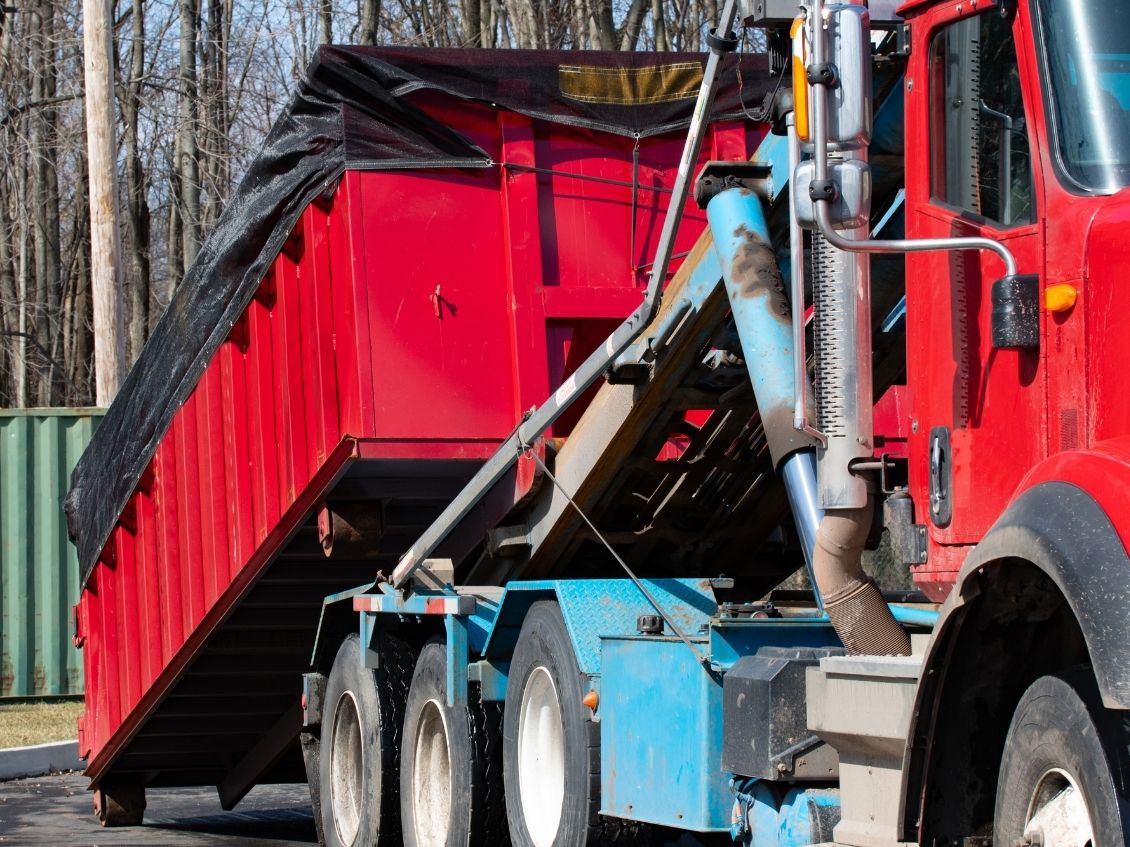 Though we say you can rent a bin on your own time, there are moments of surprise that affect your timeline significantly, such as bad weather. Let's go over how weather can affect your roll-off dumpster and how you can prepare for impact.
Cold Weather
During the cold season, you might not realize that the items inside of your bin can stick to the bottom if you're not careful. A cold front causes issues and can result in cleaning fees, which you want to avoid.
By being aware of cold conditions, you can prepare yourself with the right gear to keep the items protected from snow and prevent everything from sticking together. Here's a little more on how the cold weather can impact you and your delivery.
How Cold Weather Impacts You
While it's freezing cold out, you're taking time away from other important things to wait for your waste bin. However, depending on the conditions of highways, you might receive your roll-off much later than anticipated.
Cold weather heavily influences you, as it can result in postponing cleaning until the next day and worrying that you don't have enough tarps to cover the can and be done for the day.
When there are harsh conditions, we all want to play it safe. No one wants a rushed delivery, especially in freezing temperatures and when driving on icy roads.
How Pickups Are Affected
When it does snow, it's heavily encouraged to dig out a pathway so the company can do a thorough pickup without having to trudge through heaps of snow.
In the case you're unable to do it right away, get in touch with your waste management team and choose a better pickup time for the following day. But make sure there's a clear path to the bin before the pickup time comes.
Keep in mind that if you do wait to remove enough snow to create a walkway, there will be more fees to pay, such as late fees if they need to come back a day later.
How To Minimize Weather Risks
Luckily, there are ways to prepare yourself when cold weather strikes. In moments where there's news of a blizzard, try and plan out far in advance; that way, nothing gets delayed, and you don't have accumulated fees.
Here's what you need to do before your rent your dumpster:
Request the bin be delivered a day early.
Have your equipment ready to shovel out a path.
In the case of bad weather, call ahead for pickup the day after a blizzard.
Warm Weather
During the warmer seasons, you're meant to be relaxing poolside with a drink in your hand, plenty of activities and entertainment to go to, and more time to renovate. However, when the temperatures rise, it does create problems.
Things like wildlife, unwanted insects and animals, and invasive plants come up and ruin your day. Additionally, the weather becomes a little more unbearable, such as during extended periods of heat. Here's how the heat can harm your waste bin.
How Heat Impacts You
As temperatures rise, many critters come out, and various problems arise. For instance, a lot of smells linger, and you aren't going to be the biggest fan of smelling food residue sitting inside of your can.
Heat can impact many things, which again results in unwanted cleaning charges from the company you rented your wastebasket from. Here's more insight into the things that cause you to plug your nose and turn away.
Odor
You notice that everything's stickier and has a strange odor in humid conditions. Since hot air is forced down, it results in stenches hanging around the area, such as restaurants and a neighbor's trash.
If there is an odd odor emitting from your can, it's best to remove everything and toss out the rubbish that's causing the stench.
Then, spray it out with a hose and wipe it down. That way, you avoid fees, and you don't send out an unintentional invite to pests.
Unwanted Pests
The more odors you have—which are unquenchable to many rodents—the more unwanted guests take over your wastebin. Even if it isn't for the desired scent, many small animals might sleep underneath the basket since it's cooler.
To keep unwanted insects and pests out, close your door every time you throw something out; that way, there are no lingering smells.
Increased Fire Risk
High temperatures increase the risk of fires. Ensure you know the best ways to dispose of spray cans and other hazardous waste to keep anything from overheating.
If you find that you have a lot of aerosol cans and other flammable products, it's best to keep them in a cool area until it's time for pickup.
Dumpster Shortages and Delays
Even while temperatures rise, expect delays and dumpster shortages because of the weather. Also, more people will likely be doing various tasks to improve their homes and throw out junk.
Unfortunately, there's no control over the shortage. Still, you can prevent a deficiency on your end by requesting a trash bin early and doing what you can to prevent the weather from impacting your roll-off dumpster.
How To Prepare for High Temperatures
In places like Georgia, high temperatures have the biggest influence on how your dumpster is delivered and how you can handle the extreme heat.
How exactly can you prepare yourself for high temperatures? Here are a few steps you can take.
Secure Location
When you're handling preparations for the big construction project or garage cleanout, you need an excellent spot to place the bin. Put your container in the driveway instead of in the grass, and keep the doors shut to avoid unwanted vermin and scents.
No Flammable Objects
You can place different things inside your garbage can, but it's better to keep all flammable materials and chemicals out to avoid a potential fire.
Consider getting a separate box to store all of your toxic and highly-combustible items so they don't overheat and cause damage.
Order in Advance
Once it gets warmer out, many will be requesting dumpsters, and you don't want to be placed on a waiting list until something becomes available. Now is the best time to order your dumpster rental in Marietta, GA, and the surrounding areas.
Hire a Qualified Bin Company
Every qualified specialist knows that weather is a big indicator of how delayed a bin delivery and pickup can be. While planning your bin rental for your demolition, renovation, or another project, ensure you stay on top of knowing how weather can impact your roll-off dumpster.
We know that the weather's a nuisance and it would be great if we could control it. The good news is you won't go through handling the unpredictable weather mother nature throws at us alone.
Here at Vine Disposal, we can ensure that your bin rental gets to you in time, especially if you need it a day or two earlier or later, depending on the weather. Contact us here for more information on how we can help plan your bin lease around severe weather.