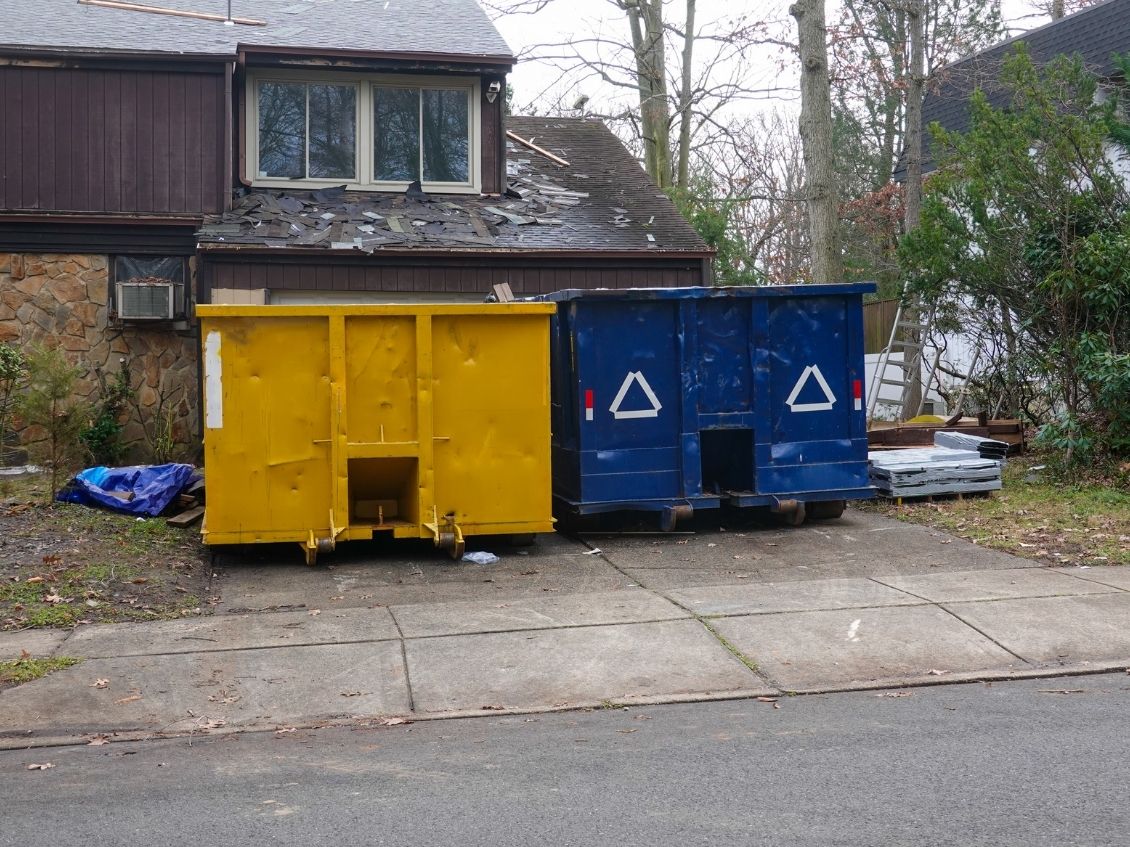 If you're planning to do some work on your roof this year, you might find yourself having a little trouble discovering how to properly dispose of roof shingles. Throwing away shingles is difficult, especially since the pieces can apart quickly. Instead of littering the lawns with debris and causing an accident, here's how to properly dispose of roof shingles.
Contain the Tear-Off Mess
Before deciding what to do with your roofing tiles, you need to first contain the mess. For starters, to protect the exterior, it's good to lay out tarps in specific areas. Once everything is torn off, strategically wrap it up and throw it into your rental dumpster to help control messes.
Figure Out the Cost of a Dumpster
Depending on your project, the cost of your dumpster rental will vary on each load. If you're unsure how big of a dumpster you need for your roofing project, call Vine Disposal and we can recommend the right size dumpster for you. Don't feel bad if you need to rent out more than once; we're happy to drop as many off to you as needed. Below, we have listed a few ways to dispose of shingles.
Recycle Old Shingles
Depending on the shingle type, it can take a while to break down in the environment. Luckily, the shingles used today are made with disposable material that's good for the environment. A better way to dispose of shingles properly is to recycle them. Many places can melt down roofing shingles to make asphalt and other materials out of them.
Donate Old Shingles for Reuse
Instead of recycling shingles, you can actually donate them so they can get reused for projects. The only time you should donate them is when they're in good condition. Otherwise, it's better to toss all the roofing shingles. Many organizations and businesses can take the shingles off your hands for a small fee or free of charge.
Throw Out the Shingles
At times, shingles may not be up to par to consider worthy of donating. For instance, if your home's older and contains asbestos, it's a good idea to toss the tiles into a 30 cubic yard dumpster to help avoid others from getting sick. At Vine Disposal, our dumpsters are readily available to help you clean up all of your debris piles and haul them away.
Toss Roof Tiles To Trash Container
To help you organize your roofing shingles debris, consider placing the dumpster on a driveway so you're close enough to toss the garbage into the dumpster. Since shingles are heavy, it's sometimes better to have the dumpster close by so you can easily throw the pieces below into a bin.
Vine Disposal provides the best dumpster rental services when it comes to getting debris cleared from yards. Whether you're changing the style or removing broken pieces, our dumpster services are here to help get your waste appropriately managed. Contact us for more information on the right dumpster for you and your roofing project.